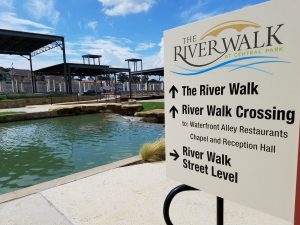 Grab your girders, folks … The River Walk restaurant row in Flower Mound has started to go vertical– literally.
Restaurant row is actually three separate buildings connected with covered walkways and served by a separate restroom building. There will be seven individual restaurants included within the steel framing now visible.
So far, the shell building permit is the only one issued for the restaurant sites at this time.  No permits for tenant finish-outs– the actual restaurants– have been submitted, but are expected to be announced in the near future.
Construction crews have been slowed-down by a utility issue with both Oncor and Atmos Energy with the fire lane next to restaurant row, town officials said.
However, tenant finish-out permits have been issued for the following businesses along FM 2499 in The River Walk: Orangetheory Fitness at 2571 Central Park Avenue, Suite 100 (3,204-square-feet); Aria Nail Bar at 2571 Central Park Avenue, Suite 110 (3,502-square-feet); and, Bank of America at 2561 Central Park Avenue, Suite 300 (7,136-square-feet).
More information will be announced when available from developer Centurion American.