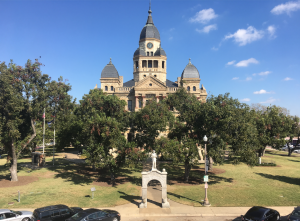 The community is invited to the first local event for International Overdose Awareness Day this week.
IOAD is a global event held on Aug. 31 ever year that aims to raise aawareness of overdose and reduce the stigma of drug-related death, while also remembering the loved ones who have died or had a permanent injury from drug overdose.
"IOAD spreads the message that the tragedy of overdose death is preventable," a news release said.
There were more than 500 IOAD events around the world last year, but none in the Dallas-Fort Worth area. Sharon Roland, a Denton County woman who lost her son, Randy, to an overdose, wanted to bring IOAD to North Texas.
About 20 years ago, Sharon's husband and Randy's father, George Roland, died suddenly of heart failure when Randy was in his early teens.
"Randy seemed to not be able to deal with the pain of his losing his father, and he never seemed to make peace with dad's death," Sharon said. "He soon turned to alcohol, then marijuana, and then stronger drugs."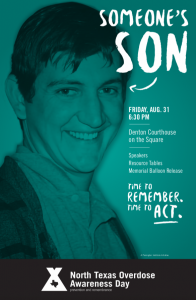 Randy "had periods of great success" and hard times, Sharon said. He graduated from Texas Tech University and got his Master's degree in counseling from the University of North Texas. He worked in addiction research.
"His goal was always to do alcohol, drug and grief counseling," Sharon said. "But it was something he couldn't overcome."
Randy died more than two years ago of a heroin and Fentanyl overdose at the age of 32.
"I think it's a parent's worst nightmare, to lose a child," Sharon said. "Especially in a preventable death."
After Randy's death, Sharon said she and her other children — Sarah Roland and George Roland III — and their families "looked for ways to do something positive with our grief and found the IOAD website."
Sharon Roland said they attended the closest IOAD event in 2016, which was in Austin, and they found it to be "very impactful." They wanted to go again last year, but air traffic problems caused by Hurricane Harvey forced their flight to be canceled. After that happened, Sharon decided that instead of going to Austin, "why not have one here in Denton?"
The Rolands have organized the first North Texas Overdose Awareness Day event, which will run from 6:30-8 p.m. on Aug. 31 on the south side of the Denton Courthouse-on-the-Square. The first speaker will be Denton Mayor Chris Watts to proclaim it the official North Texas Overdose Awareness Day. Other speakers will include a person recovering from addiction, a mother who lost her son to suicide because of his addiction and a spokesman for the DEA outreach diversion, Roland said.
Recently, Patty Milam, an Argyle resident, visited the Argyle Police Department with a message about losing her son Aaron to an opioid overdose in 2017, said APD Chief Temple Cottle. Aaron passed eight days after a 30-day addiction treatment program. Patty has made it her mission to educate and assist anyone suffering the addiction of these opioid products, and encouraged the community to come out and support the event.
Roland said she initially thought, "If we have 50 people, I'll consider it a success," but based on the community's response, "we're thinking it will be a larger event."
"So many people and groups have joined us and supported us and partnered with us," she said. "It's looking like a very successful start on something very important to us and critical to the community. Something we've found as we talk to people about this event is that almost everyone has a personal story of addiction or has a loved one with a personal story."
There will be about 25 resource tables, including local organizations such as Winning The Fight, as well as the Texas Opioid Narcan Intitiative, which will be giving Narcan, a medication that can treat opioid overdoses in emergencies, to attendees. Sharon Roland said she recently donated some Narcan to Denton ISD, to have on hand in high schools.
The evening will end with a memorial balloon release.
After speaking to Sharon Roland, UNT will also be having an IOAD event on Aug. 31.