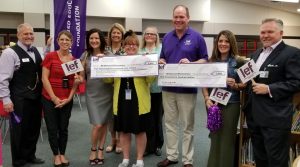 This week, the Lewisville ISD Education Foundation (LEF) awarded 64 grants to teachers across the Lewisville Independent School District. Teacher grants were awarded throughout all five LISD high school feeder patterns totaling $92,780.
From 2017, the number of grants awarded increased from 55 to 64 grants and the total amount awarded went up by more than $4,000.
The growth is not possible without the support of LISD community individuals, clubs and organizations, corporations and Lewisville ISD employees through employee giving, according to LEF officials.
The creative teachers of LISD earned grants covering the full scope of subjects: STEM-related learning, music, physics, robotics, theater, books, and more.
Teacher grants ranged from $200 to as much as $2,500 with 10 teachers receiving the highest amount allotted. Additionally, 19 campuses were awarded two or more grants while, overall, teachers at 40 campuses across LISD saw LEF's Grant Patrol show up with the good news.
One member of the LEF Grant Patrol, Sue Bowman of Sam Pack Ford, summed up the day perfectly: "This is the best thing I have done in a long time." Meanwhile, countless teachers rang out with thank yous across the school district.