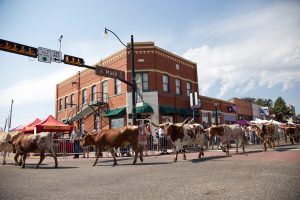 Printed and electronic tickets for Lewisville Western Days, Sept. 28-29 in Old Town Lewisville, will be available starting Monday, Aug. 27.
Tickets can be downloaded from LewisvilleWesternDays.com, or printed tickets can be picked up at city facilities and sponsor locations listed on the festival website.
This year's Western Days event will include the 14th annual World Tamale Eating Championship sponsored by Market Street, an expanded Western Village, Tribal Traditions Dance Troupe, the Kid Kountry Playground presented by Castle Hills, a mechanical bull, a working blacksmith, Huffines Auto Dealerships Lewisville Cattle Drive Parade, Castle Hills Culinary Corner, an art exhibit at Medical City Lewisville Grand Theater, live entertainment on five stages, and many more activities.
Gates will open at 5 p.m. Friday and 10 a.m. on Saturday. Attendees will need to present their ticket at the gate for free admission between the hours of 5-7 p.m. on Friday and 10 a.m. to 7 p.m. on Saturday. However, beginning at 7 p.m. both nights, free tickets will no longer be redeemable, and a $10 charge (cash only) will be assessed for admission for everyone except children under 10.
Festival-goers are encouraged to use the free shuttle service to access the festival grounds. Shuttle hubs will be set up at DCTA Old Town Station, 617 E. Main Street; DCTA Hebron Station, 952 Lakeside Circle; and the parking lot at the Lowe's/Kohl's shopping center at 1001 Valley Ridge Boulevard.
Shuttle times are 4 p.m.-12:30 a.m. on Friday, and 9 a.m.-12:30 a.m. Saturday. Shuttles will run every 10-15 minutes. While this is a pet-friendly event, pets and weapons will not be allowed on shuttle buses per bus company policy. Limited public parking will be available in various lots around Old Town.
For the latest information on Western Days 2018, visit LewisvilleWesternDays.com.