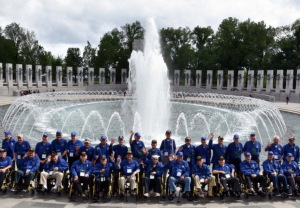 By Mark Miller, Contributing Writer 
The seventh annual Honor Flight DFW Golf Classic will launch a new campaign seeking to raise $200,000 to send about 170 area veterans to Washington, D.C. in 2019.  
Honor Flight DFW is a non-profit organization that recognizes veterans for their service by providing expense-paid overnight trips to the Nation's Capital to visit the multiple memorials erected in their honor. Each flight includes about 40- to 42-veterans; with more than 200 currently on the waiting list to take future trips. Veterans leave on Friday mornings and return on Saturday nights.  
Honor Flight DFW has provided approximately 1,700 local World War II, Korean War and Vietnam War veterans with this unforgettable experience. The average age of those traveling in 2017 was 93-years-old. 
"It's the trip of a lifetime for many," said Randy Fogle of Lantana, treasurer for Honor Flight DFW.  
Previously, an annual golf tournament typically has raised the $40,000 needed to fund one annual flight. It was first held in 2012 at Lantana Golf Club. After moving to Trophy Club for the next several events, it has settled nicely into its current home at The Tribute in The Colony. 
Fogle said other fundraisers are on the drawing board and will be announced as soon as they are finalized.  
"This is first time we've really done a targeted campaign for fundraising beyond the golf tournament," he said. "We set a goal and are trying to work toward that goal. In the past we've relied on the golf tournament and the general support of the community. For example, a gentleman named Bill Thursby– who owns Thursby Software down in the Arlington area, has a passion for veterans and has funded several trips– has just committed $45,000 to the campaign." 
It costs about $1,100 to send each veteran; who are chosen based on specific criteria including war era in which they served, health and date the application was received.  
Honor Flight covers all of the veteran traveling expenses. The nonprofit is community-funded and has no paid staff. 
Anyone interested in playing in, or sponsoring, the golf tournament on Oct. 8 can do so online at: honorflightdfw.org.  
Sponsorship levels are: Platinum for $7,500, Gold for $5,000, Patriot for $2,000, Hole for $1,000 and Freedom for $500. 
There will be room for 144 golfers with a noon shotgun start. In addition to the golf, there will be raffles, prizes, and plenty of food and beverages. Player registrations are $150.  
Questions can be addressed to: [email protected] 
"In another 5-7 years almost all of our World War II veterans will be gone. This tour is their "last hurrah" – the last time they will be recognized as those that collectively and literally saved the world."