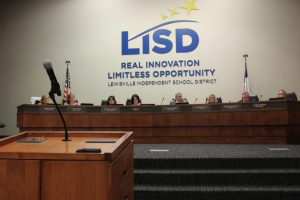 Lewisville ISD is working to improve its security at all of its schools for this new school year.
In LISD's 2017 Bond Program, more than $28 million was allocated for safety and security projects, which are currently in progress and include: security vestibules at all campuses, security camera upgrades, additional card reader access points, upgraded phone system and exterior lighting enhancements, according to the district.
The district added 800 new security cameras, for a total of 2,000. All school entrances are being reconfigured, and a new Security Taskforce Committee of community members was established to review all security measures. Undercover officers are conducting drills to try to get into schools and look for security deficiencies.
Tip lines have expanded from just the LISD high schools to all of its middle schools as well. Fifteen new staff positions are focused on supporting students' well-being, including emotional and mental health specialists. The district is also partnering with its local towns and cities to bolster the law enforcement presence at its schools. The current plan is to staff each middle school with a full-time School Resource Officer, which are already established at all of the LISD high schools.
LISD will continue to operate a district-wide counseling center and a canine detection program, to monitor social media for potential threats and to encourage students to "See something, say something" to report threats of potential violence.