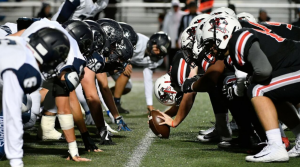 By John English, Contributing Writer
While the unyielding summer heat continues to pour down on the practice fields of Argyle, Liberty Christian, Guyer, Coram Deo Academy, Flower Mound and Marcus high schools, local athletes are gearing up for what should be another interesting season on the gridiron.
Four of the six high school football programs in southern Denton County reached the postseason in 2017 and 2018 could prove to be even better.
The region has a strong tradition of excellence in the sport of football, with a combined eight state championships between the area's six schools; and, it seems that a playoff berth in 2018 is at the forefront of everyone's mind.
Coppell and Hebron will be tough to beat, but Flower Mound and Marcus both should be playoff teams in District 6-6A in 2018.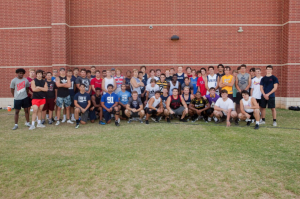 Flower Mound is hungry for a postseason appearance, after finishing a disappointing 4-6 last season, plus missing the playoffs by one spot.
The Jaguars appear to be primed for a strong campaign in 2018, returning eight offensive and five defensive starters from last year's squad.
"We have established a strong culture that we felt solidified itself in the spring," Coach Brian Basil said. "Our players have worked extremely hard and are optimistic that we can grab one of District 6-6A's playoff spots."
Basil said he expects a strong season from his returning starters on the offensive line (Jake Springfield, Cade Cowen and Cal Pennington), as well as running back Pierce Hudgens (452 yards and eight touchdowns), quarterback Blake Short (1,412 yards and 11 touchdowns) and receiver Jake Welch (616 yards and four touchdowns).
Defensively, Basil said defensive tackle Collin Alves (56 tackles, 12 tackles for loss, three sacks and named to the 1st Team All-District), defensive end Chance Hill (46 tackles, six tackles for loss, eight QB pressures), Travis McFarling (58 tackles, three sacks, seven QB pressures), safety Cole Davenport (42 tackles, five pass break ups) and corner Corben Claterbaugh (29 tackles, nine pass break ups) should lead the way defensively.
"We will need to develop some of our younger guys early on; and, maintain the discipline and work ethic that we have developed in our off-season program to make the playoffs," Basil said.
At Marcus High School, the return of one of the best running backs in the area puts the Marauders in an excellent position to contend for a postseason berth, but Coach Kevin Atkinson said his team has a lot more to look forward to in 2018 as well.
"I am in good spirits about the upcoming season," Atkinson said. "We have had a solid off-season and summer conditioning has been well attended. We are looking forward to 2018 and the challenges it will bring."
Running back Justin Dinka (1,250 yards, 12 touchdowns) should lead the way offensively for the Marauders; and, Atkinson said he is in excellent shape defensively.
"If I had to single-out a few guys defensively, they would be returning starters senior defensive end John Brand, junior inside linebacker Ethan Barr (68 tackles, one interception) and senior outside linebacker Marcel Brooks (48 tackles, 12 sacks)," Atkinson said. "I was really excited about the speed of our defense in the spring and I feel that if we continue to improve we have a defensive unit who plays well together and will cause problems each week."
Marcus returns four offensive and four defensive starters from last year's team that finished 4-6 overall.
For the Guyer football team, a move to District 5-6A could bode very well. It appears that it will come down to the Wildcats and Southlake Carroll duking-it-out for a district championship.
Coach John Walsh' team finished 7-4 last season and reached the Bi-District round of the playoffs.
The Wildcats will be led offensively by running back Kaedric Cobbs, who rushed for 1,362 yards and 25 touchdowns last season; and, defensively by a strong defensive line, which includes Grant Mahon, Chad Aune and Isaac Carrillo.
Also, keep an eye on defensive back Brent Jackson, who finished 2017 with 69 tackles and an interception.
Guyer returns three offensive and five defensive starters from a team that finished 5-2 in District competition in 2017.
Most programs would be satisfied with a 12-1 season and trip to the Regional semifinals, but for the Argyle football team, the goal is always a State Championship.
The Eagles captured a District Championship last season and begin 2018 as the top-ranked District-4A program in the state, according to Texas High School Football.
Coach Todd Rodgers said this season is just like any other in terms of the objectives.
"We are experienced in the offensive line and defensive backfield," Rodgers said. "We have options and depth at all the skill positions, offensively and defensively. We always plan and train to win a District Championship, play in December and win a State Championship."
The Argyle offense features running back Noah Lang (856 yards, 17 touchdowns) and quarterback Hunter Clearman (1,124 passing yards, 10 touchdowns). Defensively, the Eagles are led by last season's 4A Defensive Player of the Year, Chase Petter (112 tackles, 15 sacks).
But, Rodgers said one group of players in particular cannot be overlooked when it comes to determining the success of the Argyle football team this season.
"We will go as our offensive line goes," Rodgers said. "As every year, we will build the team around running the football and playing good defense."
Expect Melissa and Celina to present the biggest challenges in District 7-4A this season.
For the Liberty Christian football team, a 6-5 finish in 2017 and a playoff berth has the Warriors hungry for more. This year's squad appears to have it what it takes to do even better.
LCS returns five offensive and eight defensive starters from last year's team and looks to be especially strong at linebacker, where Conner Payton (50 tackles, four interceptions) and Logan Graham (78 tackles) lead the way.
Isreal Isuman-Hundley (56 tackles, 37 hurries) will provide Liberty with a good pass rush and anchors an experienced defensive line that should be tough to run against.
Offensively, the Warriors are led by running back Andre Washington, who rushed for 719 yards and seven touchdowns in 2017.
Look for Midland Christian and Fort Worth All Saints to be tough District opponents for the Warriors.
Fellow TAPPS playoff team, Coram Deo Academy, wrapped up 2017 with an 8-3 overall record and a loss in the Bi-District round of the playoffs, as well.
The Lions lost a strong graduating class, but coach Doug Hix said he has a number of players who are poised to step up and added his team really needs those players to do just that.
"I enter this season filled with optimism, yet practicing restraint," Hix said. "We graduated our biggest senior class ever– 10 kids– that included all of our offensive skilled players and most of our defensive skilled positions. Losing this many outstanding kids suggests a down season, however, we have returned our line and have some amazing young men I feel can step in and play.
"My greatest excitement for this year is to see how the seniors will turn into leaders and lead this team in their unique way."
Hix said he already has some ideas in mind that he believes could steer things in the right direction
Hix said some players will, "need to anchor this team's intensity and have some large production for us to remain a competitive football school."
He cited senior linebacker Max McCalley (110 tackles, 11 tackles for loss), lineman BJ Scarlett (49 tackles, 11 tackles for loss, seven sacks), lineman Jeremy Vosburg (58 tackles, 16 tackles for loss, eight sacks), linebacker Boston Arthur and lineman Michael Perrone.
"Junior running back Cooper Walthall will be asked to replace a first team All-State running back from last year's team (Hunter Longcrier) and a quarterback competition between sophomore Gage McCallum and senior Max McCalley to replace three-year starter Ryan Rogers are a few of the biggest needs we will have," Hix said.
Lubbock Christian and Willow Park Christian will be the favorites in the TAPPS DIII-1, but don't be surprised to see the Lions capture the third or fourth playoff spot.
Coram Deo returns four offensive and four defensive starters.