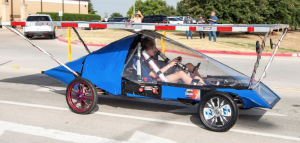 By Jaime Blanton, Contributing Writer
Liberty Christian School senior Riley Tackett plus nine of his classmates have spent eight hours-a-day, five days-a-week since May preparing for what he describes as,
"the
ultimate real-life challenge."
Tackett and his teammates traded traditional summer discussions about video games and lakeside fun, for debates about battery voltage and mechanical soundness.
The goal: conceptualize, build, test, optimize and race a full-sized solar car in the national 2018 Solar Car Challenge; an event which pits high schoolers from across the country against each other in a technology-driven road race.
"I wish we could show people how much time we put in to building and testing the car, before we ever begin thinking about the race," Tackett said.
"For
me– and for most of us– this is not a commitment we get tired of after a couple of days. I enjoy showing up every day, because it sparks my interest."
Liberty Christian's solar car, dubbed
"Solis
Bellator," completed its 833-mile trek from Fort Worth, Texas, to Palmdale, California, on July 23, after seven days on the road. The team placed third overall against 23 teams, achieving a number of school records along the way, including most miles driven in a single leg of the race.
For Brent Dragoo, director of Liberty's STEM and Solar Car program, the competition is about so much more than racing a solar-powered car. This process teaches problem-solving at the highest level.
"How many high schoolers have the opportunity to work together to figure out how to fix broken parts on the side of the road or navigate the logistics of getting a new solar panel ordered and delivered to your location on the fly," asked Dragoo.
"This
is the kind of critical thinking and teamwork that prepares students for their professional and personal futures, no matter what they pursue."
Tackett says he was motivated to work on the solar car, because he loves learning new things and expanding his interests.
"This is the best kind of commitment," he said.
"It's
about learning and having fun."
Dragoo said one of the best parts of the solar car program is that it is truly student-driven.
"This is not an activity lead by adults and professional engineers," Dragoo said.
"I
am merely the mentor, the tool acquirer, the springboard for ideas, the navigator as they problem-solve. Our car is theirs. The race is theirs. The strategy, the design, everything we do, is motivated and managed by students– high school students."
Liberty teammate Gabriel Graves described the Solar Car Challenge as the opportunity of a lifetime.
"Just being able to do this as a high school student is just really inspiring," he said.
"Most
people think,
'Okay,
if you're building a solar car, you got to be in college, right?' But, just being a high school student, it's really cool to do."
The Liberty Christian School Solar Car program started in 2006 and has grown each year since.
The solar car itself is redesigned and improved every year to optimize performance and meet students' design vision.
To learn more about partnership or sponsorship opportunities for the Liberty Christian Solar Car program, contact Kirk Porter at 940-294-2103.