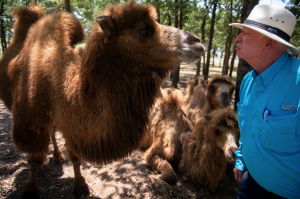 The Flower Mound farm of Mari Beth and Wayne Connor is home to a variety of unique animals. This September, the couple will be launching a new business to share their experiences and animals with the public.
Mari Beth and Wayne moved to their 60-acre property at the northeast corner of Shiloh Road and FM 1171 in 2001. They started out with four horses and lived in a 1,000-square-foot house.
Over the years, they cleared out the brush on the property, put fences up, dug out a little lake and built a barn, arena, shops and a larger house. Eventually they 
"started
collecting all kinds of animals people didn't want," Mari Beth said, describing mostly farm animals and emus — large flightless birds native to Australia, which kind of look like short ostriches.
Mari Beth estimated that half their animals are rescues. They've provided homes for animals commonly found in North Texas
—
such as cattle, donkeys, geese, turkeys, guineas, goats and more
—
but they also have some animals rarely seen in the U.S. outside a zoo, such as zebras and kinkajous. They're hoping to get coatimundis
(members
of the raccoon family) and baby kangaroos soon.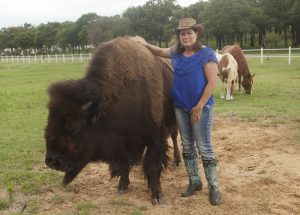 In 2016, they adopted Bullet the Bison, who was rescued from a home where he was living as a backyard pet.
Mari Beth said Wayne had wanted a camel and they went to see one, but she originally said no. But in 2016, she didn't know what to get him for Christmas, so she bought him two young two-humped Bactrian camels.
Mari Beth took to the camels quickly.
"Camels are smarter than horses," she said.
"It
takes three days to train them for riding, versus 90 days to train a horse to ride."
After getting the Bactrians, the couple added some pregnant one-humped Dromedary camels to their growing menagerie, plus another Bactrian. Now they have three Bactrians and six Dromedaries — including a 4-month-old — and they're expecting another baby soon.
"I kinda went camel crazy," Mari Beth said with a chuckle.
Mari Beth added that she is often asked by neighbors — and other members of the community — if they could ride her camels, so she started thinking of ways she 
"could
open it up and let people come enjoy the experience."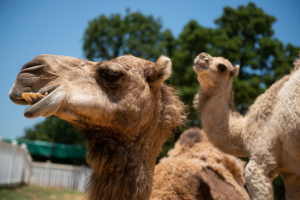 The Connors are hoping to turn their animal haven into a business and charity by opening it up to the public. Mari Beth said they aim to open the business, called Camel Safari Adventures, by Sept. 1. A website has not yet been created, but it should be online by the time the business opens.
At Camel Safari Adventures, residents will be able to purchase different experience packages that may range from just feeding the animals to a short camel ride to a longer camel ride with more camel-care training, such as learning to saddle and brush them, Mari Beth explained.
"Camels are sweet, kind, gentle animals," she said.
Mari Beth added that she wants Camel Safari Adventures to host families and small groups, unlike the nearby Flower Mound Pumpkin Patch and its large number of visitors.
Mari Beth said that once the business is up and running, she wants to launch a nonprofit called Camels Cares Charities, which will help to rescue more animals and raise money to grant wishes for sick children.
"This is a hobby of mine, and I'm excited to turn it into something that gives back to the community," she said.
Contact Mari Beth at 214-876-2258 for more information.