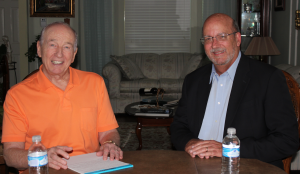 By Bob Weir
If you've been paying attention to local government during the last six years you've certainly been aware that Bryan Webb has been a strong voice on the Flower Mound Town Council. It's unfortunate that only a small percentage of voters go to the polls during town elections because what happens on the local boards have a much larger and more direct impact on their lives than plebiscites for state and national races. The same goes for elections on the county level. This November, voters will choose a County Commissioner for Precinct Four, which represents part of several town and cities in North Texas, including Flower Mound, Bartonville, Lantana, Double Oak, Argyle, etc.
Bryan Webb is the Democrat nominee for the position. Mr. Webb's opponent is Dianne Edmondson, who won the Republican primary after a runoff election in May. Voters will make their choice on Election Day, November 6. The role of a Denton County Commissioner includes such important functions as setting the annual property tax rate; approving the budget and employment level for the county; setting the geographical boundaries for commissioners and justices of the peace; setting, conducting and certifying elections; overseeing the construction and maintenance of county roads and bridges, just to name a few.
In the accompanying interview Bryan talks about his experience in local government and his reasons for running for commissioner. The following is a short bio he sent for this story.
"During his time in office the town added over $1 billion in commercial tax base to the tax rolls benefitting residents of the Town and the County. The growth in the commercial tax base allowed Bryan and the Town Council to reduce property tax rates in 2014. In addition to being growth oriented and fiscally responsible, Bryan was the catalyst in the decision to acquire park land and secure funding for the upcoming library expansion.
"He was also an important voice in assuring Lakeside DFW was able to move forward and become the success it is today. Bryan and Dr. Heather Conrad-Webb, an Associate Professor of Biology at Texas Woman's University, have been married for 31 years. They are the parents of two daughters; Alex of Columbus OH and Nicole who lives in Washington DC."