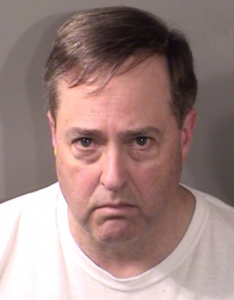 A former Northwest ISD trustee arrested on suspicion of possession of child pornography has taken a plea deal and received probation, according to media reports.
Mel Fuller, 53, was arrested on Oct. 31, 2017 while he was the Northwest ISD's Place 7 board member. His resignation from the board was effective the next day, according to the school district.
Fuller was charged with possession of child pornography, but he pleaded guilty to the lesser charge of possession of lewd visual material last month, according to the Dallas Morning News. Fuller must pay a $1,500 fine, perform 120 hours of community service and surrender his teaching licenses, the Fort Worth Star-Telegram reported. He must also inform any house of worship he may attend of his sentence and charge.
Northwest ISD does not have a statement about Fuller's case, a spokeswoman said Wednesday.
The investigation into Fuller began in December 2016, the Fort Worth newspaper reported, when Ontario Provincial police informed Homeland Security about an internet user posted images of children he sexually abused that he claimed were from his church and other churches. Investigators found that that user had communicated with the username DAVEBARD and at least two images and one video that was shared between them appeared to be child sexual abuse material. In April 2017, investigators learned the DAVEBARD account was registered to the email address [email protected], which reportedly belonged to the Northwest ISD trustee.
Fuller lives in Hurst now but lived in Trophy Club at the time of his arrest, the Star-Telegram reported. On Aug. 31, 2017, federal agents and police from Trophy Club and Flower Mound executed a search warrant on his home. He was arrested two months later.
Fuller is not the first Northwest ISD trustee to be investigated for a youth-related crime in recent years, according to the Star-Telegram. Former trustee Kerry D. Jones was indicted in 2013 by a local grand jury on four counts of improper relationship between an educator and a student. An arrest warrant accused Jones of having sexual encounters with a male student at his home in Trophy Club in 2010 and 2011. The Fort Worth newspaper reported this week that Jones' trial is still pending.