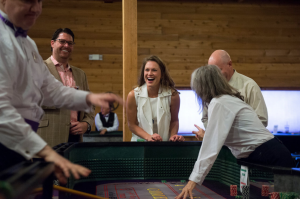 Highland Village Police Chief Doug Reim is prepping for the annual grand fundraiser to benefit the Special Olympics Texas.
Reim has chaired the Steak & Stetson event for the last four years at the Circle R Ranch in Flower Mound in an effort to give folks a "night of boot-scootin' fun." Guests will get a steak dinner, enjoy live entertainment and can participate in a silent auction, a live auction and can dance 'til 11:30 p.m.
"You'll never see another event with so much happiness," Reim said.
More than 90 percent of the money raised goes to more than 5,300 local Special Olympics Texas athletes, Reim said. The Special Olympics is an important cause for many in law enforcement, Reim said.
"We often deal with people in a not-so-good capacity," Reim said. "But these kids are inspiring. They don't have a sad moment."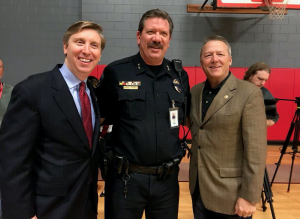 Flower Mound Police Chief Andy Kancel is a co-chair for the event, and State Reps. Tan Parker and Ron Simmons are honorary co-chairs.
The event grown a lot over the past few years, Reim said. Last year's Steak & Stetson drew 240 people, and organizers are hoping for more to attend this year.
Steak & Stetson will be held at 6 p.m. on Saturday, Sept. 22, at Circle R Ranch, 5901 Cross Timbers Road. It's $150 for an individual ticket, which just so happens to be how much it costs to sponsor a local Special Olympics athlete for a year, Reim said. Tables for eight people are $1,200 and sponsorships begin at $2,500. The first table was purchased by the Highland Village Lions Club. If you purchase a table or a higher sponsorship you will be invited to a special "pre-party" on Sept. 10 at The Flour Shop, 6100 Long Prairie Road.
This year's Steak & Stetson fundraiser will celebrate the 50th anniversary of the Special Olympics, Reim said. Next year is the 50th anniversary of Special Olympics Texas.
Reim said he got involved with Special Olympics Texas about eight years ago and has found the experience to be inspiring.
"You can learn a lot of valuable lessons from Special Olympics athletes," Reim said. "It's a unique world to see how much they love and enjoy life."
Reim said he hopes to spread awareness that the Special Olympics is not just for special needs kids, but adults as well.
For more information and to purchase tickets, click here.