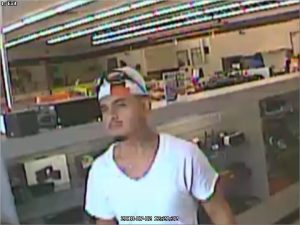 The Corinth Police Department arrested one home burglary suspect on Tuesday and asked the public for help identifying the second suspect in the case.
Corinth police charged 25-year-old Jose Antonio Mendoza of Fort Worth for his alleged involvement in a home burglary on July 2 on Winston Drive in Corinth, according to CPD. But there was a second suspect who police are trying to identify.
If you recognize the second suspect pictured in this surveillance image from Cash America Pawn, contact Corinth PD at 940-498-2017.