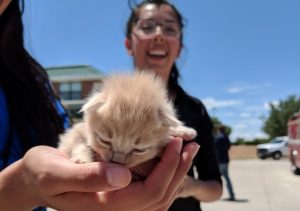 Five newborn kittens and their calico mother now call the Double Oak Veterinary Medical Center home after being rescued from a storm drainage system one day before rains were set to hit North Texas.
The kittens were found Tuesday afternoon about 200 feet away from where they were first spotted in a storm drain. Their mother was captured in a live trap just before sunset Tuesday and reunited with her kittens.
Crews from Flower Mound, Argyle, Double Oak and others worked steadily for days to find the mother cat and her kittens after they were first discovered near the veterinary center off FM 407 near Chinn Chapel Road last week.
The feral mother cat, spotted several times in the past month, was captured last week by a veterinarian technician who realized she'd recently given birth to kittens. After walking around, the kittens' mews were heard in a nearby culvert, said head veterinary technician Chelsea Brandt on Sunday.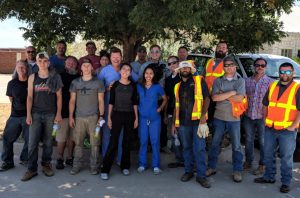 The rescuers were able to capture one kitten and spotted two others, realizing the litter was about 10-12 days old.  Unable to dig further on private property, the rescuers decided to release the mother cat and kitten to ensure the survival of the remaining litter.
With multiple days of rain expected to begin in Denton County on Wednesday, the search for the feline family's whereabouts intensified. On Tuesday, engineers helped rescuers locate the kittens by using specialized camera equipment, said Dr. Bill Wood, a veterinarian at the Double Oak Veterinary Medical Center.
Crews and staff from the Town of Flower Mound, Town of Double Oak, Argyle Fire & Rescue, the Cross Timbers Water Supply, Double Oak Concrete, Preferred Self Storage and Dr. John Gomez with Rapid Med Urgent Care Centers worked together on the rescue. Also assisting were civil engineer Bobby Dollack with G&A Consultants, mechanical engineer Jerrod Frank and two engineering/physics teachers from the Denton Independent School District, among others.
The kittens were discovered around 1:30 p.m.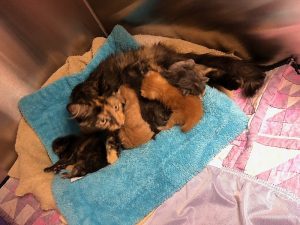 Dr. Wood said Tuesday afternoon his staff would keep a watch out for the mother and hoped to catch her Tuesday night when she returned to the original culvert to eat, as she has done since she was first spotted with kittens last week. And that is exactly what happened.
The kittens and mother cat will remain under Dr. Wood's care.
"On behalf of Dr. Wood, his staff and myself, we want to offer our heartfelt thanks to everyone involved in the rescue and to the communities for their support," Dr. Gomez said. "We are relieved that this little family is together again and safe from the elements."