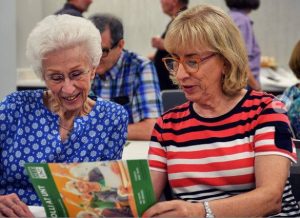 The Osher Lifelong Learning Institute program at UNT is coming to the Flower Mound Senior Center this month.
OLLI provides lifelong learning programs that foster intellectual stimulation and social engagement through an extensive array of classroom and experiential learning opportunities designed specifically for adults 50 years or better, according to a town news release.
OLLI will offer weekly 90-minute classes at the Flower Mound Senior Center, 2701 West Windsor Drive, that cover a variety of topics including history, politics, art, writing, gardening, science, technology and more. Classes will be held each Monday from 2:30 – 4 p.m.
In addition to these seminars, OLLI members can attend additional seminars at five locations throughout Denton County, and attend special lectures as well as local trips around the Metroplex, the news release said. SIM members will receive a discounted rate of $75 for an all-inclusive annual rate (normally $140) which will allow them to attend the classes in Flower Mound on Mondays, as well as any classes at UNT, UNT Frisco, Good Samaritan Lake Forest and Robson Ranch and receive all other member benefits.
A special informational seminar will be held at the Flower Mound Senior Center this Tuesday, Aug. 7 from 1-2:30 p.m. Attendees will get more information about the program and benefits as well as a copy of the fall schedule. For more information about the seminar, contact the Senior Center Courtesy Desk at 972-874-6110. To obtain more information about OLLI, click here or call UNT at 940-369-7293.