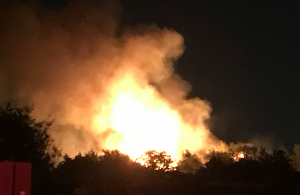 Local firefighters worked Sunday to extinguish a small grass fire that had been put out Saturday night but flared up again the next day.
The Flower Mound Fire Department was dispatched about 8:45 p.m. Saturday to a reported grass fire near a utility pole near the roundabout at Lakeside Parkway and Lakeside Village Boulevard, according to Brandon Barth, a spokesman for FMFD. The fire was actually located farther back toward the spillway on the Grapevine side of the city border and was difficult to reach.
Multiple units from Flower Mound and Grapevine responded and contained the fire to about 13 acres, Barth said. No injuries or property damage were reported and the scene was cleared about 3 a.m.
However, there were some flare ups during the day Sunday, Barth said. Firefighters from Grapevine, Denton County Emergency Services, Lake Cities Little Elm, Lewisville and Highland Village worked to extinguish the fire and reinforce boundary lines. Most of the fire crews cleared the scene around 5 p.m. Sunday, but Grapevine firefighters were staying to keep an eye on it.