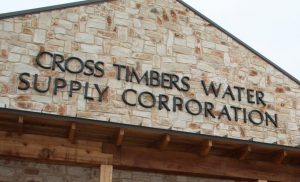 by Patrick McDonald, President, Cross Timbers Water Supply Corp.
Water consumption by Cross Timbers Water Supply members was the highest in June in over a decade.
Water usage exceeded 57-million gallons and was within 1 percent of the June record established in 2006. If not for the strong conservation efforts of Cross Timbers members water usage would have been much higher. Average member usage was actually 14.6 percent lower than the usage in June 2006.
A 16 percent increase in membership over 2006 has increased total consumption. Without conservation by Cross Timber members, June 2018 usage would have been almost 10-million gallons higher.
July usage is tracking at an even higher rate than June. Trending through July 20 indicates that the total monthly usage could be 14-million gallons higher than June. If our current hot dry spell continues, August could be even higher.
Such high consumption rates puts additional responsibility on the water distribution infrastructure. The single elevated tank was filled and emptied the equivalent average of 3.8 time per day in June. The single 500,000 gallon elevated tank that has served the membership since 1996 is overtaxed under current conditions. The usage rate thus far in July means the elevated tank is filled and emptied an average of 4.5 times per day.
When completed the addition of the new 750,000 gallon elevated tank will reduce the filling cycle to less than twice a day under the conditions predicted for July and will give the membership a better reserve for firefighting while not impinging on domestic water use.
Contact the Cross Timbers Water Supply Corporation at 940-584-0780 or www.crosstimberswater.com