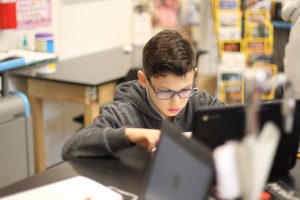 One of the largest charter school operators in the nation, ResponsiveEd, is based in Lewisville; and, they realize the dilemma families face, while researching so many academic options.
The ResponsiveEd campus most familiar to the public is that of the Founders Classical Academy currently located in Flower Mound's Parker Square. Its new location at the southeast corner of FM 1171 and Flower Mound Road is under construction to accommodate the student population and waiting list of hopeful enrollees.
In an effort to fast-track the search process, ResponsiveEd is bringing all of its local options to parents for one night, all in one place, for the first time ever at its Local School Choice Showcase.
ResponsiveEd charter schools featured at the showcase will be: The STEM Academy – College-like studies with a university setting for grades 6-12; iSchool Virtual Academy of Texas – Online, self-paced curriculum for grades 3-12; Premier High School – Credit-recovery and early graduation for grades 9-12; and, Entrepreneurial Academy – Hands-on, project-based college prep for grades 9-12.
The mission ResponsiveEd promotes is: "to provide hope for students through an innovative, character-based, personalized learning environment where they are academically successful and develop into lifelong learners."
Since launching its first 15 charter schools in 1999, a sense of mission with sound educational practices and core values has been the aim of ResponsiveEd schools to help students reclaim their hope in the classroom.
In the 19 years since then, the schools have responded to the changing needs of local communities and built a network of more than 70 campus locations in two states that serve the diverse and distinct needs of thousands of students.
Currently, ResponsiveEd tuition-free charter schools have more than 2,300 educators teaching more than 23,100 students, with more than 12,500 graduates.
"We have a number of different educational models in our family of schools, each one designed to meet the various needs and learning styles of today's students," says ResponsiveEd Director of Communications Billy Rudolph. "The purpose of the showcase is to create a one-stop-shop for parents who want to learn about the best options out there for their children."
The Local School Choice Showcase is taking place at The STEM Academy, 650 Bennett Lane, in Lewisville on Wednesday, August 8 at 6:30 p.m.
"Our local brick-and-mortar schools provide modern approaches to particular areas of study for students who are focused on graduation, higher-learning and professional careers," adds Rudolph. "Our virtual school does the same, but with the added component of being tailored to Texas families wanting to provide education at home in a safe, controlled environment."
Representatives from each campus will be on-hand to answer questions and talk about the programs of study at each school. Enrollment specialists will also be at the event to help parents complete applications if they find the right fit for their child.
"This is the perfect opportunity for parents to learn about public charter schools, how we operate, and the great offerings we have right here in Lewisville," proclaims Rudolph. "If you are a parent looking for something beyond what your traditional public school provides, we invite you to joins us – one night, one hour, one choice that can open the door to world of possibilities for your child."
For more information about ResponsiveEd and its programs and schools, visit: responsiveed.com/schools.
For locations and information on schools in North Texas, visit: responsiveed.com/north or phone 972-316-3663.