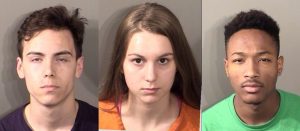 Corinth police arrested three people last week who are tied to multiple home burglaries in Corinth and nearby cities.
Last week, a neighbor saw one woman and two men going into the backyard of a home on Sussex Court in south Corinth, according to Corinth Police Lt. Kevin Tyson. The neighbor reported the burglars, and police caught the female driving leaving the area. The two men fled on foot when the homeowner came home, and police also caught them in the area, Cameron Garrison of Corinth, Cameron Jordan of Denton and Ethan Garcia of Denton were arrested on suspicion of burglary of a habitation.
Investigators linked Garrison and Jordan to property that had been stolen from homes on Wood Ridge Court and Clubside Drive days earlier, Tyson said. Police believe the suspects would watch and wait for homeowners to leave before entering the houses, and there was no apparent forced entry. Most of the stolen property — which was mostly electronics — has been recovered.
As of Sunday, Garrison and Jordan — who face multiple counts of burglary of a habitation — remained in Denton County Jail in lieu of bail, but Garcia had bonded out, according to jail records.
Police also recovered property from recent home burglaries in nearby cities, according to police, but those investigations are ongoing so no other information could be released.