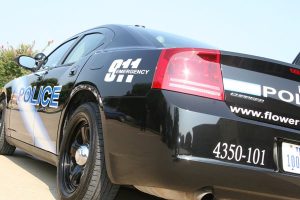 Law enforcement is seeking help identifying two suspects who robbed a Flower Mound bank on Friday morning.
The Flower Mound Police Department responded to a bank robbery at 10:30 a.m. at the Denton Area Teachers Credit Union, 2935 Long Prairie Road, according to a FMPD news release.
Two male suspects walked into the bank wearing black masks, ball caps, gloves and long-sleeve shirts carrying pistols, according to the news release. One suspect stood guard while the other jumped over the counter to grab money. They then left the bank in one vehicle before switching to another unknown vehicle.
No one was injured during the incident. The suspects are described as one hispanic male and one black or hispanic male, both around 5'10" tall.
The Federal Bureau of Investigation is investigating the case. If you have information about the incident or the suspects, contact FMPD at 972-539-0525 or the Anonymous Crime Tip Line at 972-874-3307.