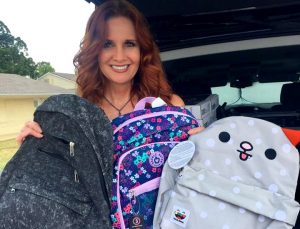 Since 2012, Argyle-based Mission Moms has been helping area families facing challenging times.
Mission Moms began with the vision of one mother, Kathryn Flores, to teach her own boys to be giving; after watching their excessive excitement about toys that would be available that Christmas. That simple act has grown to multiple missions throughout the year to show love and support to families dealing with challenging times.
With back-to-school around the corner, many area children lack the basic tools to be successful in the classroom.
"We need over 400 backpacks for kids at AISD, NISD, LISD and DISD that will face the school year with anxiety and stress over things most of us don't think twice about," said Flores.
Before school begins, Mission Moms will hold the 7th annual Blessing of the Backpacks on Wednesday, Aug. 8, from 11 a.m. to 1 p.m. at Shiloh Church, 6500 Cross Timbers Road in Flower Mound.
Anyone wanting to donate items can do so at Country Lakes Family Dental, 74 McMakin Rd. #200, in Bartonville or through: www.missionmoms.org.