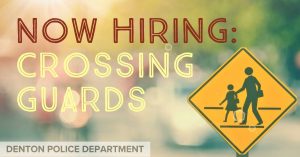 The Denton Police Department is seeking applicants to be school crossing guards for the upcoming school year.
Crossing guards in Denton will be responsible for helping elementary school children cross the street and get to school safely. Applicants must be able to work three hours, in the morning and in the afternoon, on Denton ISD school days, according to the job listing. They must also pass a drug test, criminal history background check and social security number verification check.
The seasonal jobs pay $1o.55 hourly. The department is also hiring for substitute school crossing guards.
Click here for more information.