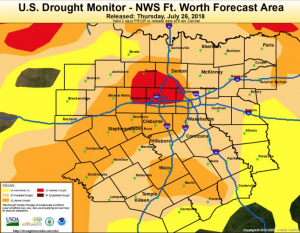 A portion of the Dallas-Fort Worth area — including southern Denton County — is now in extreme drought, according to the National Weather Service.
Because of inadequate rain in late spring and early summer, drought conditions have worsened in North Texas, according to the weather service. For the first time since October 2015, part of DFW is in extreme drought, the second-highest level of drought intensity.
The new area under extreme drought includes parts of Dallas, Tarrant, Parker and Wise counties, as well as all of southern Denton County, according to the weather service.
Despite receiving much more rain in February than usual, DFW is currently behind pace for annual rainfall. The normal amount of rainfall recorded at DFW Airport from January to July is 22.2 inches, but this year only 19.16 inches have been recorded, according to the weather service.
Less than two-tenths of rain has fallen on DFW this month. Less than 1.3 inches fell in June, less than 1.9 inches fell in May and less than 0.8 inches fell in April, according to the weather service.
Extremely high temperatures and the lack of rain have caused greater strain on local utilities and water suppliers. Last week, the Upper Trinity Regional Water District, which supplies water to Denton County residents, requested residents conserve water as part of its Stage 1 Drought Plan.