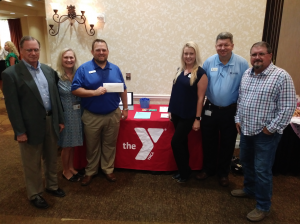 Grande Communications, the Texas-based broadband communications company, recently presented Cross Timbers YMCA with a check donation for $1,500 during the Unity in Communities annual luncheon sponsored by the Flower Mound Chamber, Lewisville Chamber and Highland Village Business Association.
The grant will give the opportunity to participate in the Cross Timbers YMCA annual soccer program to 33 students whose families may not otherwise be able to afford it, according to a news release from Giant Noise public relations. Participating in team sports help children learn and develop essential life skills.
The donation is part of Grande's employee philanthropy club, Grande Cares, where employees seek to enhance the communities where they provide service and where they live, work and play, according to the news release.