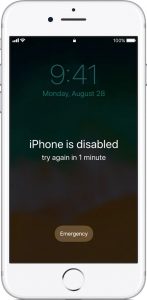 By Chris Cole, Experimac Highland Village
Has this message ever appeared on the screen of your iPhone device? "iPhone is disabled. Try again in X minutes."  If so, you know how frustrating this can be and you've probably asked yourself, "But, why?" or better yet, "Now what?"
Disabled iPhone Device Error Messages
Depending on the exact wording of the message, you may or may not have something to worry about. Best case scenario, you get this: iPhone is disabled. Try again in 1 minute.  Not as great, you may get this or a different wait time: iPhone is disabled. Try again in 15 minutes. Or some other amount of time up to 60 minutes. Worst case scenario, you get this: iPhone is disabled. Connect to iTunes.
As you see, these error messages can vary and although slightly inconvenient, the first message is not really a big deal. However, if you get the last message, the only method for unlocking your iPhone device at that point will be to connect it to the iTunes service. Sounds simple enough but you need to be careful when you get to this point. Always try clicking on "Update" first. If that fails, you will have no other option but to click on "Restore" which will cause all of the data on the phone to be wiped. This is part of the recovery process and there's really no way around it.
What causes these error messages?
These error messages usually mean you have used the wrong passcode too many times and your iPhone device is locking itself down to protect itself from what it perceives as a possible hacking attempt. One of the reasons to love your iPhone device is the built-in security measures but these can also work against you if you are not careful. You're allowed up to 5 incorrect attempts but on attempt number 6, you will start to see the dreaded "iPhone is disabled" messages. Ten incorrect attempts at your passcode will lead to the gut-wrenching "iPhone is disabled. Connect to iTunes." message on your screen.
There is good news though – if you have a little patience and wait out the delay times calmly, your iPhone device will begin to work as it should again once you enter the correct passcode. These wait times are automatically activated and can't be turned off. We recommend being more mindful of entering the correct passcode to avoid these annoying delays or using the TouchID feature if your phone supports it.
What's the lesson here? A few things. 
Give your passcode to someone you trust or write it down somewhere safe where you can access it in case you forget your passcode.
Do not ignore these messages, especially those that include a wait time because they can escalate and lead to receiving the worst-case scenario message and consequently, your phone getting wiped.
Back up your iPhone device. Always.
Do you need any help with setting up the TouchID feature or using your iPhone device? Experimac's experienced techs are able to help you. No appointment necessary. Stop by Experimac Highland Village today! 972-317-0978, 4141 Waller Creek Suite 160, Highland Village