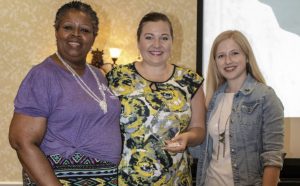 Denton County Friends of the Family won the Nonprofit of the Year award at the Unity in Communities luncheon on Tuesday hosted by the Flower Mound Chamber of Commerce, Lewisville Area Chamber of Commerce and Highland Village Business Association.
From their humble beginnings with two paid staff members in 1980 to over 70 employees today, Denton County Friends of the Family is dedicated to providing compassionate, comprehensive services to those impacted by abuse and violence while partnering with the community to promote safety, healing, and prevention.
Last month the charity served over 500 women and over 300 children came in for play therapy.
The annual Unity in Communities event is sponsored by Independent Bank.