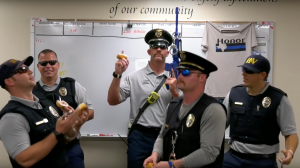 The Highland Village Police Department released its response to the Lip Sync Challenge on Wednesday.
The Lip Sync Challenge is a social media trend of law enforcement officers dancing and lip-syncing to songs and challenging other agencies to create similar funny videos. HVPD was challenged last week by the Flower Mound Police Department, whose Lip Sync Challenge video has more than 7 million views.
"We love serving our community and had a lot of fun creating this video," HVPD said on Facebook. "Multiple departments participated and it served better than any other team-building exercise out there!"
Highland Village's medley video follows different groups of the town's police and fire departments who are up to doughnut-eating, bike-riding, Blues Brothers-singing "shenanigans," all under the watchful eye of Mayor Charlotte Wilcox.
HVPD challenged the Denton County Sheriff's Office, Lewisville Police Department, Breckenridge Police Department and Westworth Police Department to also make Lip Sync Challenge videos.
Check out the HVPD Lip Sync Challenge video below: