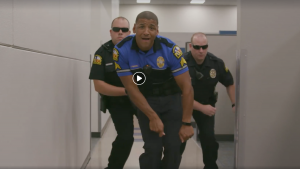 The Flower Mound Police Department's Lip Sync Challenge video has already been viewed millions of times in just a couple days.
The Lip Sync Challenge is a social media trend of law enforcement officers dancing and lip-syncing to songs and challenging other agencies to create similar funny videos. Flower Mound's video shows local police officers lip syncing and dancing to Meghan Trainor's pop song "Me Too," and it also features Flower Mound firefighters, jailers, dispatchers, Animal Services employees and more.
And people are loving it.
The department posted the video on Thursday afternoon, and it has been blowing up on Facebook since. As of Monday morning, the video has more than 6.7 million views, 186,000 shares, 182,000 reactions and 15,000 comments.
The high quality video was shot and produced by the town's communication department in a surprisingly short amount of time.
"After much discussion, we finalized our song choice on Tuesday, shot the video on Wednesday, and produced it on Thursday," said Molly Fox, the town's director of communications. "It was a little stressful, because we had one shot to make it work before several people in the video went on vacation the following day."
Sgt. Jason Rachal, the star of the video, was one of those going on vacation. Over the weekend, he was recognized by a family from Tennessee who wanted a photo with him.
The town and police department wanted to create a video "that residents could take pride in," Fox said.
"To have such a high quality of video in such a short amount of time is almost impossible, and illustrates how much everyone wanted this to be a success, both in performance and production," Fox said. "When I saw the final cut, I knew we had a top notch video so it was exciting to see it immediately take off in views, comments and shares."
FMPD's video quickly surpassed the number of views of Grapevine Police Department's medley video, which has 4.3 million views, as of Monday. Flower Mound still has a long way to go to catch the Corinth Police Department, which has more than 12 million views on its lip sync video of Miley Cyrus' "Party in the USA."
Check out the FMPD video below.
https://www.facebook.com/FlowerMoundPoliceDepartment/videos/807389332717979/