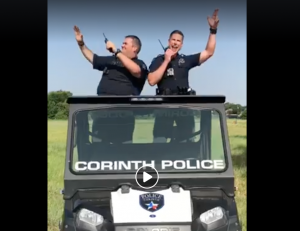 After receiving a lip-sync challenge, the Corinth Police Department probably wasn't expecting to go viral and get millions of views this week.
In the social media trend of law enforcement officers dancing and lip-syncing to songs, law enforcement agencies then challenge other agencies to create a similar funny video.
The Corinth Police Department was challenged by the Hickory Creek Police Department recently, and they accepted, creating a video starring five department members goofily lip-syncing and dancing to Miley Cyrus' "Party in the USA."
And people are loving it.
The department posted the amusing video on its Facebook page on Sunday afternoon, and Facebook users quickly shared it around the globe. The department's page has about 20,000 followers, but the video's views, shares and likes quickly far surpassed that number. As of Tuesday afternoon, the video has 83,000 likes, 130,000 shares and 4.2 million views.
Many of the 14,000 comments are about the first officer to appear in the video, Derek Kirkwood, "AKA Dreamboat."
"The real issue hasn't been addressed yet though….is the first cop single or no?" asked a woman in the comments, receiving 5,700 reactions.
"Yes, sorry to break hearts but Officer Kirkwood AKA 'Dreamboat' is off the market," the department said in the comments, sharing a wedding photo of Kirkwood with his wife (with her permission).
"I think I just heard the sound of a thousand hearts breaking throughout the Lake Cities area," responded another woman.
The Corinth Police Department ended the video with a challenge to the Lake Dallas Police Department, Little Elm Police Department and Norfolk, Virginia Police Department.
Click here to watch the video on the Corinth PD Facebook page.