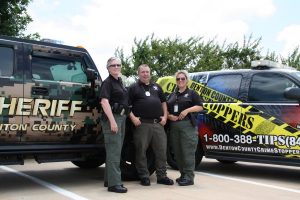 The Denton County Sheriff's Office will host several programs and events later this month and is inviting the public.
The sheriff's office monthly Woman's Empowerment Program will be held on Saturday from 10 a.m. to 2 p.m. The free program teaches women self-defense skills for female residents 15 years old and older. It is held at Denton Bible Church, 2300 East University Drive in Denton. Registration is required by email at [email protected] The next WEP session will be on Aug. 25 at the same time and location.
On July 26, the Denton County Sheriff's Office is participating in the Tip-A-Cop event at the Texas Roadhouse in Denton, 2817 South Interstate 35E, to benefit Special Olympics Texas. From 5-9 p.m., DCSO authorities will help serve diners and collect donations for the Special Olympics.
The sheriff's office is also hosting a bone marrow drive with Hallie's Heroes on July 27 from 1-4 p.m. at the sheriff's office, 127 North Woodrow Lane. The event is being held for 10-year-old Hallie Bea Barnard, who was diagnosed with a rare bone marrow disorder, Diamond Blackfan Anemia, when she was 13 months old. She is looking for a bone marrow match. Hallie's Heroes was created three years ago in an attempt to help save Hallie and the 14,000 other people desperately waiting to find bone marrow matches.
And finally, DCSO is hosting a free Stop the Bleed event on July 31 from 6:30-8:30 p.m. at the sheriff's office. Stop the Bleed is a national campaign to address the most common cause of preventable death in the United States, uncontrolled bleeding. A person can die from blood loss in five minutes, and learning to Stop the Bleed can save your life or someone else's. To register, call Deputy Campbell at 940-349-1549 or email [email protected]