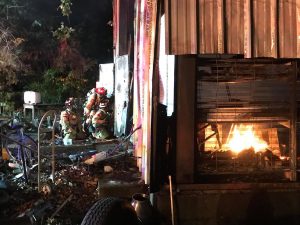 Argyle firefighters responded to a structure fire Saturday night and encountered multiple explosions while trying to douse the building.
The call came in for a fire at a metal shop on Old Justin Road about 9 p.m. Saturday, and there were several explosions from welding equipment, welding gasses, fuel tanks, paint cans and ammo, said Argyle Fire District Assistant Chief Mike Lugo.
No one was injured from the fire, Lugo said.
Firefighters from the Denton, Flower Mound, Ponder and Roanoke fire departments responded to assist, and they were able to get the fire out after about three hours, Lugo said. The cause of the fire hasn't been determined, as of Monday afternoon.
The metal shop is a total loss.