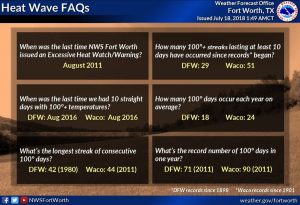 Mother Nature is not playing around this summer.
The oppressive temperatures have prompted the National Weather Service to issue an Excessive Heat Warning for Denton County through Sunday.
Temperatures are expected to top out at or above 105 each day though Monday. Maximum heat index values could hit 112 degrees.
With near record heat, electricity use is breaking records.
The Electric Reliability Council of Texas says demand peaked at 71,438 megawatts between 3 p.m. and 4 p.m. Wednesday, breaking the previous record set on Aug. 11, 2016, by 328 megawatts.
Take precautions to protect yourself and others from heat-related illness. If you're outdoors, be sure to stay hydrated, take frequent breaks and seek shaded areas. Better yet, find something to do indoors.
This is some of the hottest weather North Texas has experienced in a few years. Heat waves with 100 degree temperatures lasting 10 or more days are fairly uncommon, only occurring once every few years, according to the National Weather Service.
The last time our area was under an Excessive Heat Warning was in August of 2011.
Check the latest forecast (if you dare) here.