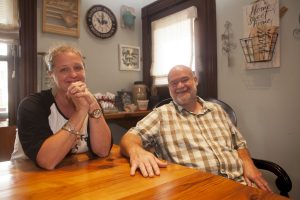 "I never expected to come back to Texas when we moved from Rowlett about 20 years ago," said Jim Terry, who grew up in Orange, California. Never say never.
He and his wife, Crystal, have spent their adult lives as Assembly of God Youth Ministers. They were thrilled 13 years ago to be assigned to a nearly 100-year-old congregation; the Seattle-area island-ferry-town of Anacortes, Washington.
A little over a year ago, Jim's brother passed away locally leaving four minor children. The extended Terry family circled their wagons to meet the need. One brother moved from Houston, the senior Terrys came to Highland Village; while Jim and Crystal and their four children, one daughter-in-law and two dogs– named Louie and Nina– migrated to Justin from Anacortes. Other members of the Terry clan live in Denton, Northlake and Argyle.
"Since we didn't arrive on a church assignment, this was a career change," Crystal said. "We were looking at the Harvest neighborhood and wondered aloud at the about-to-be restored Victorian farmhouse sitting near the center of things."
She and Jim are experienced in home and antique restoration.
It turned out the Hillwood developers envisioned the 130-year-old, two and-a-half story building as a business-anchored community center.
Negotiations between the Terrys and Hillwood gave birth to a dream restoration project; and, the Farmhouse Coffee & Treasures business. Crystal's brother owns a successful coffee shop in California and mentored the commercial piece of the venture into existence, with the couple at its helm.
The finished project sits on a landscaped corner lot amid parking, potted plants, bicycle racks, picnic tables, vegetable gardens, an orchard, four working greenhouses and a farmyard-styled playground. Kids scramble over a red tractor like it is a jungle gym.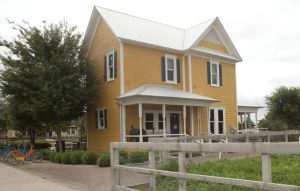 The welcoming, gabled attic, turn-of-the-century 1900's mansion boasts a covered wrap-around porch with bistro tables and chairs, vintage-look metal roofing and a buttercup-yellow paint job– with white trim and dark blue window shutters– that all say "Y'all come on in!"
The interior is pure down-home country, with wood floors, stained oak doors and trim, comfy chairs, sofas, coffee tables and plenty of vintage kitchen tables and chairs for groups. A constant stream of visitors order snacks and drinks at the sales counter in the former dining room.
"Neighborhood parents keep an account with us so the kids can drop in and charge a lemonade or snack on their own," said Jim, adding that's a hit with everybody. "Our first goal, is to run an excellent business. That means we serve up the best coffee in Texas, tasty food and fine giftware."
The best coffee in Texas means an old-style artisan product.
"There's nothing automatic about Farmhouse coffee production." he said. "The machine is fully manual. We weigh the grind before we start, then control the pull-time of the brew. A cup of our macchiato is the perfect blend of coffee and steamed milk froth. It doesn't get more perfect than that; and, reminds me of the most perfect 'cuppa' I tasted in Barcelona, Spain."
Farmhouse coffee beans come from Ethiopia in east Africa. Its taste notes are strawberry, jasmine and honey.
The menu boasts specialty drinks like "cold-brew coffee," signature Granita– a slushy textured frozen coffee– from an honest-to-gosh margarita machine and seasonal wholesome and organic drinks.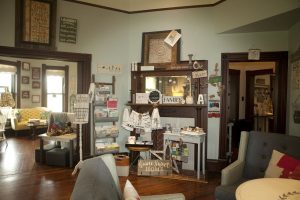 Crystal is the business's chief Treasure Finder.
"We stock new, vintage and antique items for sale," she said.
New means just that. Jim's mother provides new gifts and decorations that keep positive thoughts, scriptures, and encouragement always in the forefront.
"Vintage items are less than 100-years-old," Crystal said. "You never know when you will find them."
One example is a 1920s Ball Company glass home-canning jar and lid with a baling wire clamp.
"I found this in an attic estate sale," she said. "All it needs is the rubber suction ring and you're set to preserve something wonderful from the garden."
Antiques, she said, are verifiably 100-or-more-years-old. She keeps plenty repurposed stock to please those with a taste for times past.
Short on time? Need drink, food, or a gift? No problem.
Keeping up with the electronic world Farmhouse Coffee & Treasures will soon unveil its new online ordering application. How easy is that?
"Our second and equally important goal, is for the coffee shop to be a community asset," Jim said. "That means customers–our neighbors–walk into an atmosphere of care, love and community. This business-goal blends perfectly with our lifelong vision of ministry."
The titles under Crystal's name on her business cards are "Owner/Treasure Finder/Friend." The Terrys obviously make it a point to know everyone who walks through the Farmhouse door.
If the "cockles" in your heart warm to the ideas of good old days, security and friends and community, Farmhouse Coffee & Treasures brings them to life in its ambiance, personnel and products. The endeavor fits the Hillwood development idea of farm-to-table living; and, an urban agri-hood.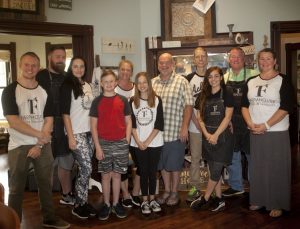 What are those last two items? They spring from the urge of the millennial generation to work with nature, by getting a little dirt under the fingernails in one of the square-foot raised-beds in the Harvest community garden. Grow your own salad. If you want to, take a little homegrown produce to the Farmhouse and they'll fix you a salad!
Maybe you'd like to give back to the community? Help grow produce for the local food bank? Anything is possible in an urban agri-hood. How's that for neighborly?
The urban agri-hood tries to blend the best of a low-impact urban present, with the best of last-century's farm life ideals on the Great Plains.
Leave the car in the garage, walk to the family-friendly coffee shop. As the unique red-and-white stop sign on the corner in front of the building says, "STOP—and smell the coffee."
Jim's pastoral advice is, "Let the feelings of love guide your life and you'll be moved to do what's right."
Crystal agrees, saying, "Be kind; everyone has a story. There is more to our fellow beings than meets the eye."
The Terry family is interested in planting a new community of faith in the area.
For more information, contact them at: Farmhouse Coffee & Treasures or 940-231-6508.