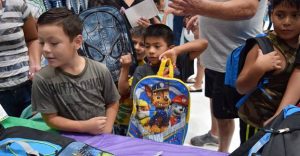 Denton-area organizations and nonprofits are collaborating to consolidate three previous back-to-school events into the Denton Back to School Fair this summer, according to the United Way of Denton County.
The inaugural event will be held on Aug. 11 from 8 a.m. to 3 p.m. at UNT Gateway Center, 801 North Texas Blvd. in Denton. It will support about 3,500 Denton County students and their families with school supplies, backpacks, health education resources and more, according to a United Way of Denton County news release.
Interfaith Ministries, the Denton Police Department and Health Services of North Texas have all previously hosted independent back-to-school events for Denton ISD students, but now, by working together, the Denton Back to School Fair will be able to "do more, serve more and eliminate redundancies," according to Denton police representative Cleo Birckbichler. The City of Denton, Denton Bible Church, Denton Hi-Noon Lions Club, Immaculate Conception Catholic Church, Serve Denton, and United Way of Denton County are also partnering to help put on the Back to School Fair.
In Denton, 44 percent of Denton ISD students qualify for free or reduced lunch, and in addition to giving these students a new backpack and school supplies, the event will equip parents with resources their children need to have a confident and healthy start to the school year, according to the news release.
Community support of this event is vital, the news release said. The estimated cost to equip 3,500 students with backpacks and school supply packs is $61,250. Area businesses, community leaders and individual donors are asked to join the effort by donating to purchase backpacks and supplies for the children.
For more information, including how to register your child to receive school supplies at the event, click here.