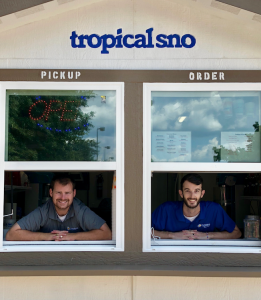 A new snow cone stand is inviting the Flower Mound community to its grand opening event Saturday.
Co-owners  and entrepreneurs Trevor Overton and Preston Daniel grew up in Flower Mound and have known each other since middle school. Overton, a stuntman and business owner, said he grew up enjoying snow cones from Tropical Sno stands with his family, and he recently tried to find one nearby, but he couldn't. He couldn't even find a snow cone stand in Flower Mound — not counting Bahama Bucks, the snow cone and smoothie chain of indoor shops.
Overton began working on opening a Tropical Sno in Flower Mound with Daniel, a teacher and coach who has snow cone stand ownership in his blood; his great-grandfather owned a snow cone stand on Main Street in Grapevine for over 50 years.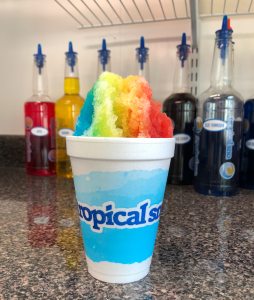 Overton said he's enjoying the nostalgia of opening a favorite treat stand from his childhood, and he and Daniel are happily sharing the experience with their families.
"We're both very family-oriented, and we want to share our entrepreneurial spirit with our families," Overton said.
Tropical Sno quietly opened up shop last week at 2151 Long Prairie Road in the parking lot of the Walmart Neighborhood Market, and the snow cone stand will have a grand opening event Saturday from 11 a.m. to 11 p.m.
There will be raffles every hour for free snow cones, and a grand prize raffle late in the day. A balloon artist and face painter will be there from 2-5 p.m., and there will also be lawn games and plenty of tables, seating and shade.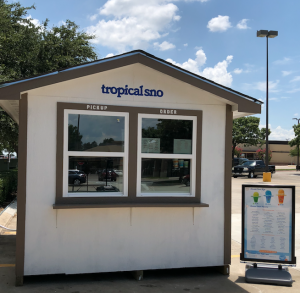 Tropical Sno offers 42 individual flavors, six best-selling flavors that are light on sugar, 40 pre-made concoctions and, if you're lucky, you might be let in on the secret menu. Tropical Sno will be open from 11 a.m. to 10 p.m. Mondays through Thursdays, 11 a.m. to 11 p.m. Fridays through Saturdays and 1-9 p.m. Sundays. The snow cone stand accepts credit and debit cards, and has a rewards card.
Overton said he and Daniel are "thrilled" at the community response since the soft opening. In fact, there's been more business than expected and they are looking to hire some more part-time employees.
Click here for more information.