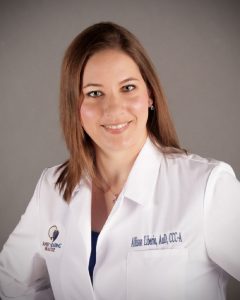 Are you or your loved ones missing out on the sounds of life?
Living with hearing loss can be difficult. Finding the right care for your hearing loss can be even more challenging. Less than 25% of those who need hearing aids have them, robbing them of meaningful social interactions they once took for granted, and adversely affecting their quality of life.
Family Hearing Practice, led by Dr. Allison Liberio, values providing the best hearing healthcare possible. With proper care, better hearing can improve relationships, restore enjoyment of favorite activities, and bring feelings of belonging and human connection back to those who feel isolated. Helping patients achieve these results is why Family Hearing Practice is so committed to caring for each patient like the individuals they are. Many options are available for the treatment of hearing loss and the best place to have your unique needs addressed is at Family Hearing Practice.
Dr. Liberio is a licensed audiologist who is skilled and experienced at providing the best hearing care possible. Family Hearing Practice offers a comprehensive plan to give you and your loved ones the hearing capability they need to enjoy the world to the fullest. What sets Dr. Liberio apart is her personal, caring, and patient approach with her patients. After many years of experience in a variety of medical settings, Dr. Liberio opened Family Hearing Practice in her own community — right here in the Flower Mound area.
Dr. Liberio first realized she wanted to help others who were experiencing hearing problems because of the negative effect she encountered when interacting with family members with hearing loss—including her mother. "I always wanted to work in healthcare and as I learned about the lack of support for those who have hearing loss, I knew audiology was the right field for me," she said.
Dr. Liberio graduated with her bachelor's and doctorate of Audiology from the University of North Texas to which she returned as an adjunct faculty member. In addition to her doctorate, Dr. Liberio earned a Certificate of Clinical Competence in Audiology (CCC-A) from the American Speech and Hearing Association. To earn a CCC-A, an audiologist must complete a tough academic program, engage in supervised clinical experience, and pass a national exam. Most of Dr. Liberio's clinical experience was spent working alongside highly respected Ear, Nose, and Throat physicians in Dallas where she developed a thorough knowledge of the medical field and the skills necessary to see patients successfully navigate hearing healthcare.
Dr. Liberio is not an excellent audiologist because of her extensive education alone, but also because she is passionate about helping her patients. She helps educate them on the prevention of hearing loss, the possible causes of hearing loss, and the variety of options available to restore their hearing abilities. She doesn't just prescribe hearing aids for her patients—she also works with her patients to ensure their long-term hearing health.
When asked what Dr. Liberio finds most rewarding about helping her patients, she stated, "I really enjoy it when a patient is fit with the right set of hearing aids and their loved one asks 'Can you hear me now?' The joy on their face when they respond 'Yes, I can hear you' truly makes me glad I do what I do." Dr. Liberio prides herself on developing permanent relationships with her patients. She knows what it takes to combine the latest hearing aid technology with practical hearing health advice so that her patients achieve success. Her commitment to her patients is what distinguishes her and makes her one of the most sought-after audiologists in the area.
Dr. Liberio comes highly recommended by her patients for her knowledge and understanding of the difficulties encountered with hearing loss and the use of hearing aids. Here are what some of her current patients are saying:
"Over a period of seven years I have used 4 different hearing practioners. Dr. Allison and staff are the most competent, down to earth of them. Highly recommended." Phil-Flower Mound
"Dr. Liberio is great to work with! Very knowledgeable and wants to make sure you have the best fit and hearing aids to meet your needs. I have bought others that I regretted. Glad I chose Dr. Liberio at Family Hearing Practice. I recommend her without hesitation." Jon-Double Oak
"Dr. Liberio is the best. She is so caring and patient. I am glad I found her. Her staff is wonderful. It really does feel like family." Mary-Flower Mound
"Super service, kind, compassionate and a very knowledgeable professional audiologist. I highly recommend her. She goes the extra mile with a smile and saved me money on the best hearing aids ever." Raymond-Lewisville
"Always willing to give my hearing aids a "checkup" when needed. My world of sound would be lost without my hearing aids from Family Hearing Practice." Katy-Flower Mound
To ensure the best treatment for her patients, Dr. Liberio works with patients' primary care physicians and ENT surgeons in the Flower Mound/Denton area to coordinate hearing loss treatment. This kind of deliberate collaboration assures her patients are receiving a well-rounded team approach to their hearing challenges. "My patients receive the best hearing healthcare possible because I provide them with a comprehensive approach that may include collaboration from their other medical providers," said Dr. Liberio.
Dr. Liberio also enjoys assisting community members with hearing problems. She joined the Think-Pink initiative sponsored by Oticon. Proceeds from the event were distributed to the National Breast Cancer Coalition. Hear for the Holidays is another community event Dr. Libero participated in where a lucky winner received a pair of high-end hearing aids.
In her free time, Dr. Liberio enjoys being with her husband Matt and their three children. She is also a very active participant in her church and in the community. Dr. Liberio urges those with hearing problems to discard any fears or shame they may feel about them. She said, "No matter what your hearing difficulty may be, my staff and I will work with you to solve the problem and set you on the road to a new and more fulfilling life."
Family Hearing Practice is located at 2913 Corporate Circle #300, Flower Mound. Call them at 817-997-4084 or visit www.flowermoundfamilyhearing.com