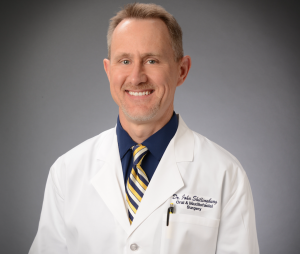 John Shillingburg is proud to be a native Texan. After graduating from Texas A&M with a bachelor's degree in Biomedical Science and from the University of Texas Dental School in San Antonio with a doctorate degree in dental science, Dr. Shillingburg completed a general dentistry residency at Fort Carson in Colorado.
He earned his advanced degree in oral surgery from Brooke Army Medical Center in Fort Sam Houston, then received certification from, and is a diplomate of, the American Board of Oral and Maxillofacial Surgery in 2007. He is trained and credentialed in dentoalveolar surgery, facial cosmetic surgery, dental implant surgery, orthognathic surgery, facial reconstructive oral surgery, and dental anesthesiology.
Dr. Shillingburg also holds membership with the American Dental Association and is a Diplomate of the American Dental Society of Anesthesiology. Additionally, he has been nominated by his peers for several awards including 'Texas Super Dentist' and 'D Magazine Best Dentist.'
"It's a blessing to help restore someone's oral health," said Shillingburg.
DFW Oral Surgeons in Flower Mound has a variety of dental implant-supported options that can increase people's quality of a life; from giving back the ability to eat and speak normally to giving back the confidence needed to smile again.
Here's what some of DFW Oral Surgeons' patients have to say:
My wife's dentist Dr. Terry Test recommended we contract Dr. John Shillingburg at DFW Oral Surgeons in regards to possible implants for my 86 year old Mom's bottom jaw. From the first visit through the surgery, the TEAM at DFW Oral Surgeons has been awesome! – S.L.
Dr. Shillingburg made my wisdom teeth extraction very comfortable and not intimidating. His office staff is all so friendly and the girls at the desk are more than willing to answer any extra questions you have and work out payment plans for services. – A.R.
DFW Oral Surgeons is a top-notch business offering the highest level of professionalism coupled with complete bedside manner. It is the BEST! – C.S.
If you have a problem or just want dental implants I would highly recommend DFW Oral Surgeons and Dr. Shillingburg. He is also one of the friendliest surgeons I have ever met and his manner definitely puts you at ease, especially when facing several difficult procedures. – C.W.

I wish I could give Dr. Shillingburg more than 5 stars! This guy is the greatest, and I'm so happy to have been his patient. Without hesitation, I would see him again if needed and recommend him to my friends and family. Additionally, his office staff members are very professional and helpful. The whole place is first class. – T.S.
Dr. Shillingburg is the Director of the DFW Study Club, an affiliate chapter of the Seattle Study Club. Established in 2013 by Dr. Shillingburg, its goal was to create a peer-based continuing education group for dentists and specialists in the community.
"As dentistry continues to evolve, it is critical to provide a forum where members meet on a monthly basis and discuss a variety of topics such as interdisciplinary treatment planning, case studies and practice management," said Shillingburg.
In January of 2015 at the annual Study Club's Symposium, Dr. Shillingburg and the DFW Study Club received 'Rookie Club of the Year' award.
Dr. John and his wife, Carrie, live in Flower Mound and have four children: twins, Caleb and Jacob; son, Joseph; and daughter, Karis. The family enjoys church activities, spending time outdoors, and water sports.
DFW Oral Surgeons is located at 4421 Long Prairie Rd #100 in Flower Mound. For more information on DFW Oral Surgeons, call 972-539-1491 or visit: dfworalsurgeons.com