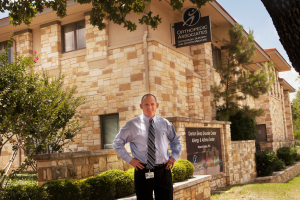 With a history of providing orthopedic care– going back to 1976– the Orthopedic Associates' physicians have deep roots in the community. They are the team physicians for all the area high schools.
In its ongoing attempt to serve the orthopedic needs of North Texas residents, Orthopedic Associates is proud to announce the opening of their Denton facility.
"We are excited to be back in Denton," said Dr. Jeffery Cantrell, who specializes in Shoulder Surgery, Arthroscopy and Sports Medicine. "The opportunity to serve this growing part of our county is a blessing."
The board-certified Orthopedic Associates doctors have been practicing medicine for a combined total of 183-years of experience. Each has their own, prestigious internships, fellowships, honors, awards and affiliations.
Michael J. Willenborg, M.D., Foot and Ankle Surgery, Arthroscopy and General Orthopedics; Manuj C. Singhal, M.D., Sports Medicine, Arthroscopy, Knee Replacement and Knee, Shoulder and Elbow Reconstruction; Ian G. Wilkofsky, M.D., Shoulder and Elbow Surgery, Arthroscopy, Sports Medicine and General Orthopedics; Aaron D. Schrayer, M.D., Orthopedic Trauma Surgery, Sports Medicine, Arthroscopy and Joint Replacement; John C. McElroy, M.D.
Spine Surgery and General Orthopedics; James R. Heerwagen, M.D., Sports Medicine, Arthroscopy, Joint Replacement and General Orthopedics; Brady G. Giesler, M.D., Spine Surgery and General Orthopedics; Kent F. Dickson, M.D., Hand Surgery, Shoulder and Elbow Reconstruction and Arthroscopy; and, J. David Evanich, M.D., Joint Reconstruction and Replacement, Arthroscopy and Sports Medicine.
Our physicians work so well with patients in our community because they are part of it. The doctors at Orthopedic Associates spend the time it takes to understand the unique situation for each patient holistically to reach the best individual diagnosis, treatment and rehabilitation which can be provided right here at home.
For the doctors' biographies, their accreditation and accomplishments, as well as their life outside work, visit: www.orthopedicassociates.org
Patient care and satisfaction are the primary priorities of the highly trained, board-certified physicians at Orthopedic Associates of Flower Mound and Denton.
Orthopedic Associates treats patients of all ages, offering a comprehensive range of proven and innovative treatment options for orthopedic problems. It covers the entire spectrum of orthopedic care and pain management, so orthopedic problem can be diagnosed and treated quickly and accurately.
The Orthopedic Associates' Flower Mound facility offers: Imaging– digital radiography and an accredited open MRI unit to ensure precise diagnosis insight into soft-tissue injuries that may involve muscle, tendons or ligaments; In-house Surgery– on the second floor, 15,000-square-foot outpatient surgical center, staffed with dedicated registered nurses, certified surgical technologists, on-site anesthesiologists and physicians; In-house Physical Therapy– the 5,500-square-foot, second floor open-concept space, a continuum of patient care with the on-site staff of seven licensed physical and occupational therapists specializes in the treatment of orthopedic injuries, including surgical recovery. The physical therapy team works closely with physicians to develop customized treatment plans to help patients recover from surgery or injury, promote healing and strengthen the affected area to avoid future injury; and, finally, Ongoing Management– follow-up visits may be recommended to ensure long-term improvement.
Currently, the Denton facility offers examination and diagnosis services, plus ongoing management and follow-up visits to ensure long-term improvement.
"So many of the patients– and the referring providers that Orthopedic Associates take care of– will now have better access to subspecialty care [with the Denton office]," said Cantrell. "We are here to help–not compete."
The Denton facility is located at: 3200 Colorado Blvd, #101 in Denton.
The Flower Mound facility is located at: 5000 Long Prairie Road, in Flower Mound.
For more information on Orthopedic Associates, visit: www.orthopedicassociates.org or call 972-420-1776.