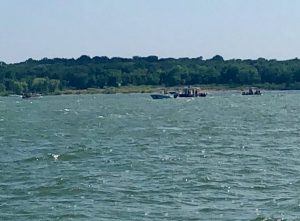 The man who drowned in Lake Grapevine this weekend has been identified.
The Tarrant County Medical Examiner's office identified the victim Wednesday as 25-year-old Andre Moseley.
Moseley was with a group of people on Saturday morning in the west end of the lake, according to a Grapevine Fire Department news release. He was riding on an inner tube being towed by a boat when he fell off. He became distressed and went under water, and wasn't seen again.
He was not wearing a life jacket.
Grapevine Fire Department officials responded to the incident and searched for days for the man. His body was recovered Monday evening on the shoreline of behind a residence in the 2600 block of Bourne Lane in Flower Mound.