At Tuesday night's Flower Mound Town Council meeting, longtime Mayor Tom Hayden was honored for his service and new Mayor Steve Dixon was sworn in.
Hayden has served as a Flower Mound council member and mayor for the last nine years and was not eligible to serve another term as mayor because of term limits. Tuesday night, elected officials and town staff presented him with mementos commemorating his time as mayor, according to social media posts by the town of Flower Mound.
A representative of State Rep. Tan Parker thanked Hayden for his service to his hometown and the work they accomplished together. She presented Mayor Hayden with a resolution from the State and a personal letter.
FMFD Capt. Mike Baldree, president of the Flower Mound Professional Firefighters Association, thanked Hayden for his leadership and presented him with an honorary membership to the association.
Flower Mound Chamber of Commerce President Lori Walker presented Hayden, on behalf of the Chamber, with an hourglass that represents the time he gave "unselfishly to this community and Town staff" and wished him well in his new time out of office.
Flower Mound Fire Chief Eric Greaser thanked Hayden for his commitment to public safety and helping the department accomplish the goals of both police and fire to better serve Flower Mound, especially at critical times. Greaser presented Hayden with a special firefighter's helmet he had personalized for him.
Flower Mound Police Chief Andy Kancel also thanked Hayden for his commitment to public safety, and mentioned several projects that were accomplished thanks to Hayden's leadership and Council's support. Kancel presented Hayden with a special Chief's Coin in honor of his exceptional customer service to the town.
Parks and Recreation Staff, along with Parks Board Chair Gloria Jones, presented Hayden with his own volunteer shirt, hat, trash picker tool and bucket so he could, in jest, continue his service to the Town as Parks volunteer.
Denton County Commissioner Andy Eads also said a few words on behalf of him and Commissioner Bobbie Mitchell about their time serving with Hayden. He credited Hayden with a great culture of cooperation within the county and with Flower Mound's neighboring cities.
Jeri Harwell, Republic Services Municipal Services Manager and Flower Mound resident, also thankedHayden for his service and relayed a personal story of the mayor visiting her home to visit with her about a water leak, which was resolved.
Town Secretary Theresa Scott presented Hayden with the gavel he used during his time as mayor mounted on a plaque and special caricature artwork, signed by town staff and residents.
The town honored Hayden's service with his own street sign, which also commemorated Hayden's dedication to growing the community's trail system.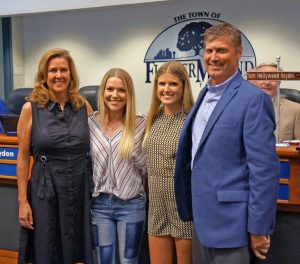 After the town had thanked Hayden for his service, Dixon was sworn in as the new mayor.
Dixon defeated Cathy Strathmann last week in the runoff election for Flower Mound mayor, with 53-percent of the vote. He will serve a three-year term.
Dixon served on Flower Mound Town Council from 2009 to 2011 in Place 1. Then, after taking a year off, was elected to serve two consecutive two-year terms on council in Place 4, from May 2012 to 2016. He also sat on several boards and commissions between 2004-2009 and is an active member of the Flower Mound Chamber of Commerce.