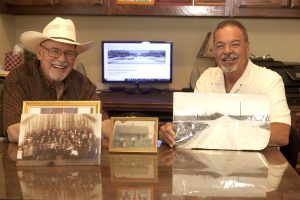 "I spent a lot of time on that old land," said Ron Hilliard of Flower Mound. "I didn't plan to be a developer, but I guess I am now."
The land he referred to is a section of a 90-acre pasture east of FM 2499 and south of Sherri Lane, site of the future Founder's Landing commercial development.
In fact, Hilliard, 72, was born in the home on the final parcel of land– 107-acres known as the Yates Place, after the previous owners from Grapevine– bought in 1929 by Hilliard's grandfather, known as "Pete" or B.L. Hilliard.
The Hilliard ancestors first lived in North Carolina, then in Illinois, before reaching Texas in the early 1800s. Along the way, some family members stopped and settled various "Hilliard" communities– Hilliard, Ohio; Hilliard, Georgia; and, Hilliard, Florida, for instance.
Hilliard's great grandfather, James, was married to Sally Ann Vaughn– a Cherokee tribe member, by some family accounts. In 1856, he sent for his brother and his 13 kids, to help work James's approximately 1,000-acres.
"Of all the family members, only B.L. stayed on," said Hilliard. "One moved to California and started a walnut farm and one went out to be a gold miner. Everyone thought he was dead, until years later he popped back up."
Hilliard's father, Ernest F. Hilliard, had a major presence in Denton County. He served as County Commissioner Precinct 2 for 12-years, from 1951 to 1963 and helped bring the interstate [I-35], Loop 288, Lake Grapevine, Lewisville Lake and numerous paved farm roads in the county.
"He always said Denton County was the first county in the State of Texas that got its right-of-way for 35," Hilliard said. "He was so proud of that; being able to get right-of-ways. It was odd in the 1950s to build a road with a 400-foot right-of-way. Back then, we went from a little two-lane road to a 400-foot wide thing."
In 2001, he was honored by Denton County for being the oldest living County Commissioner, at age 87. He died in April 2003 in the family home and is buried in Shiloh Cemetery on Cross Timbers Road.
In addition to serving as a County Commissioner, Ernest Hilliard also worked for the county as a heavy-equipment operator. His machinery was used to help build the first paved road in Denton County. That was the beginning of a life-long friendship between him and the father of Founder's Landing commercial real estate broker/developer, Todd Weaver.
"My dad, Ernest, and his [Todd's] dad, B.R. [Bill R. Weaver] were great friends," said Hilliard. "Of course, his dad was much younger than mine."
It might be assumed that it was local politics that brought the two men together, but it was actually real estate and heavy-equipment machinery.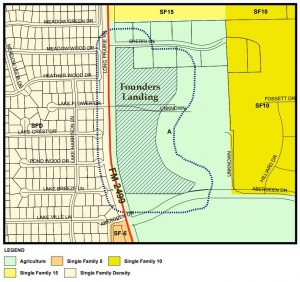 B.R. Weaver graduated from Lewisville High School in 1955 and is a member of the LHS Hall of Fame. A U.S. Army veteran, he was instrumental in the construction of Lewisville Rodeo Arena; was a founding officer of the Greater Lewisville Area Realtors; Realtor of the Year of 1965 and 1972; served as President of the Chamber of Commerce in 1965; and, was named "Citizen of the Year" in 1964.
He was also one of the youngest mayors of Lewisville, serving three-terms from 1963 to 1969.
Given the long-time connection of the two families, it was pre-ordained that Ron Hilliard would reach out to Todd Weaver to create Founder's Landing.
Hilliard, a U.S. Navy veteran who served on an aircraft carrier during the Viet Nam War, spent 42-years in the lumber industry and decided it was the right time to sell the property and share with his older sister, Jimmy Ruth (J.R.) Hilliard Martin, 87, of Lewisville.
She authored Images of America: Flower Mound, in 2012; a pictorial book from Arcadia Publishing that recounts the history of the community of Flower Mound in the form of photographs, oral stories, and facts that have been passed down through generations.
One of Hilliard's personal memories from his childhood was driving to his grandmother's home past what is now the upscale, gated residential development, Point Noble, named for successful Dallas gambling club owner, Herb "Cat" Noble.
Hilliard's aunt had sold the land to Noble, who was opposed to 1940s gangster Benny Binion, representing the Chicago Mafia's attempt to make Dallas its southern stronghold. A full-scale turf war– complete with mafia hitmen, car bombs, wholesale murder, blazing gunfights and car chases in Dallas– spilled over to Noble's ranch. Noble was shot twelve different times, but each time, he survived. The mob once tried using a car bomb to kill Noble, but instead killed his wife. Noble was finally killed by a bomb planted in his mailbox on August 7, 1951, which used to stand on the western side of the Wichita Trail bridge.
"I remember hearing all the stories about the gun battles and bombs and I was always scared when we'd drive by his ranch," said Hilliard.
He also recalled when his father received his private pilot's license at age 55 and created the airstrip called Hilliard Air Field on the farm in the 1960s.
"When they were building the [DFW] airport, I had the plane out and looked down at all that concrete and decided, 'why not,' so I did a touch-and-go," laughed Hilliard. "I came home and told my dad about it and he said, 'Heck, I did that two-weeks ago.' You know, air traffic controllers still tell pilots to 'take the Hilliard approach' into DFW."
"That's how we came up with the development's name, Founder's Landing; to honor the land where the project will be built," said Weaver.
Founder's Landing is being marketed in three sections of 6.5-acres, 6-acres and 5-acres, with the intention of a grocery store to anchor one of them.
Flower Mound's Director of Economic Development Andrea Roy and Town Manager Stathatos attended the International Council of Shopping Centers held in Las Vegas from May 20 to 23, to market town projects, including Founder's Landing.
"The first thing I want [for the development] is something of quality," said Hilliard. "Second, I want my neighbors to be proud of the businesses that will be there."