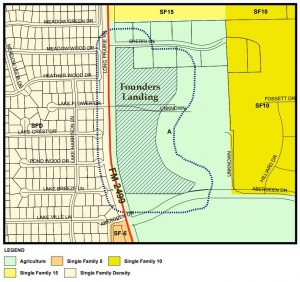 How someone identifies a 1,500 linear-feet strip of a 90-acre pasture along the east side of FM 2499 and south of Sherri Lane can be a "tell" of how long they've been in Flower Mound.
Take Ron Hilliard; his family has owned the property since 1929. In fact, he was born there more than 71-years ago.
"He was here before Flower Mound was here," said Mayor Tom Hayden.
Folks who've lived in the area for at least three decades or so, remember some cattle and horses, plus a donkey roaming around the pasture.
Those of us who came with the population boom in the late 1990s remember seeing small planes landing on the Hilliard Airstrip– quite a head-ducking reaction while driving. Later, the air traffic ended when the trees got too tall.
Back in July 2010, at the start of the gas drilling "wars" in the area, the property– jointly owned with his sister, J.R. Martin of Lewisville– drew media attention as a battleground-site between property-owner's rights and concerns about public health and safety.
Today, there's a gas pad, but empty pasture land to its west.
On Tuesday, the Town Council unanimously passed the request for a Master Plan Amendment (MPA) and rezoning of the land from Estate Residential to retail for 17- of 38-acres.
Senior Project Engineer Bobby Dollak said the development will include 43,650-square-feet of office space, 57,500-square-feet of retail/restaurant space and a 36,000-square-foot grocery store.
As a nod to Hilliard's history with the land, the new development will be named Founder's Landing.
Deputy Mayor Pro Tem Kevin Bryant suggested a historical marker be erected on the property, which also received unanimous approval.
Germany's Lidl grocery store company had expressed an interest in the grocery space, but has not moved forward so far.