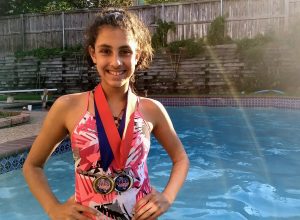 by Madhuri Bandla, Contributing Writer
Sylee Ramanathan, 13, from Forestwood Middle School in Flower Mound, has been swimming since the age of two.
Her first competitive swim meet with USA Swimming—the group responsible for selecting and training teams for international competition including the Olympic Games– was in 2013, when she was only nine-years-old. Her team, Lakeside Aquatic Club (LAC), has Gold Medal status, an honor given only to the top 20 clubs in America each year.
In March of 2017, when Sylee was preparing to swim for an out-of-state swim meet in California, she suffered an unexpected setback while playing soccer.
"As she was running towards the goal, the goaltender tried to get the ball and knocked Sylee over. As she fell on her back, her leg landed in an incorrect way, cracking her tibia and fibula–both shin bones–on her left leg. The spectators heard the sound of the crack," recounted her mother, Sangeeta Pathak. "The goal did count and her team won the game."
Sylee was confined to a wheelchair for seven-weeks.
Her doctors advised that until she could walk without support, she could not swim. After swimming nearly every single day of her life, since she could remember, it was a bitter experience to be confined in the house without being able to swim for close to four months.
She appreciated her swim team and friends who visited her at home; signing her cast and cheering her up.
From a wheelchair, Sylee slowly moved to crutches and, in mid-June last year, she got back into the water; but, had to take it one stroke at a time. Her recovery period was crucial as she slowly got her body acclimatized back to swimming– within limits.
Her annual summer trip to India was shortened to a month. While there, she worked with a private coach to get her muscles stretching and her strength back. However, she was still not close to her competitive timing and that meant using far more reserves of inner strength and determination.
After coming back to America at the start of a new school year in August of 2017, Sylee resumed a rigorous routine of swimming six-days a week, as well as intense exercise and a healthy diet. Sylee also practiced yoga under the guidance of her mother, a yoga instructor in Flower Mound.
In March 2018, Sylee made an impressive comeback. She qualified for the Texas State under 14 swim meet– swimming freestyle in both the 200- and 400-yard relays– representing LAC.
She and her relay team members– Halina Panczyszyn, Bailey Kaiser and Rae Chi– brought home the Texas State Gold Medal in the 200-meters in 1:51.45 minutes to set a new State record. The previous record was 1:52.64 set in December 2016. Sylee set her personal best time of 25.88 seconds for the free-leg she swam as the anchor in the 200-meter relay.
The following day, she and her team took the Silver Medal in the 400-meters relay, with a time of 4:07.29 for a North Texas record.
Her team not only won the Gold, but also beat the previous State record in that category, which also contributed to LAC winning the rating of top team in Texas.
On June 7, Sylee will be one of the top 12 LAC swimmers– age 11 to 14– to travel to compete in the North Baltimore Aquatic Club's Long Course Championships, held on June 8-11 at the Meadowbrook Aquatic Center. This was the home club of Olympic swimmer Michael Phelps.
This out-of-state LAC travel-team trip will be an opportunity for swimmers to learn independence– no parents will travel with the team– experience competition and swimming in an outdoor facility; most Texas pools are indoor facilities.
In addition to swimming, Sylee enjoys basketball and soccer. She plays the cello for her school orchestra and was recently selected for the Junior Honor Society.
She hopes to swim for Flower Mound High School with a goal to get a college swim scholarship in 2023. Looking forward in the future, Sylee is thinking she'd like to become an Obstetrician.