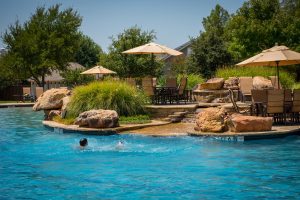 Better eyes will be on Lantana starting this summer.
The Lantana Community Association is investing in new, high-definition surveillance cameras to deter vandals and other ne'er-do-wells.
The existing security cameras located at the HOA-owned amenities in the southern section of Lantana are now 17-years-old, while the northern cameras are 11-years-old.
"The reserve budget is assessed every three-years and 2018 is the year to replace that type of infrastructure item," said Community Manager Mark Norton. "Our cameras now are at the good level– of the good, better and best-levels– and the new ones will be upgraded to the 'best.'"
The new units feature 5-megapixel motorized aligning high-definition lenses with remote refocus and night-vision. They can also be tied directly into a smartphone for remote viewing.
In addition, the new upgraded cameras will also be added to have a view of every playground owned by the Community Association.
"They aren't just to catch vandalism," said Norton. "It's so if there's an incident, we can help tell the story of what happened for law enforcement and the Association's insurance."
He added that, as an association, it needs to provide liability protection for all common areas.
"We've had some vandalism, but they were minor," said Norton. "The upgrades are not in response to any specific issue. We just needed to upgrade to better equipment."