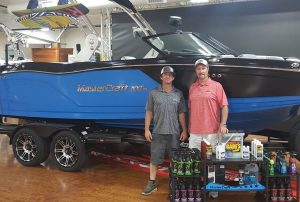 With the explosive growth in northern Denton and Collin counties, the owners of Texas MasterCraft took a leap of faith when deciding to relocate their watercraft location from Lewisville to Aubrey/Pilot Point, northeast of Denton.
Since opening the new location this March, the move has paid-off for partners Jimmy Harvell and Bartonville resident David S. Humphrey. Along with sales manager Brian Sasser, they have tapped into a customer base itching for what they offer.
"We wanted to be out here in the middle of the growth in this area and a lot of our customers are from this area," said Sasser, a former member of the professional MasterCraft Pro Wakeboard Tour. "Plus, there are seven lakes within a 30-mile radius of the new dealership. So, from a servicing standpoint, it's a convenient location for all North Texas boaters."
"We believe there is a strong demand for this type of boat, but unfortunately, they would have to commute to Lewisville just to shop. We sold 50-percent of our total 2017 sales from Lewisville, within the first three-weeks of opening this new location."
Jimmy and David opened a Texas Mastercraft sales and service dealership in September 2001 in Irving. A couple years later, it moved to their Fort Worth location adding a sales satellite showroom in Lewisville three years ago. The new location coincides with celebrating the 50-year anniversary of MasterCraft Boat Company.
The Aubrey/Pilot Point showroom specializes in a selection of high-quality new and used MasterCraft in-board boats, ranging in price from $70,000 to $200,000. The new location contains a full-service center, parts department and pro shop to take care of your boating needs. The service department also provides lake-call service.
"It's important to us for our customers to have an enjoyable experience with their families and friends on the water," said Sasser.
For more information, contact them at: www.texasmastercraft.com, or call 940-324-6015.