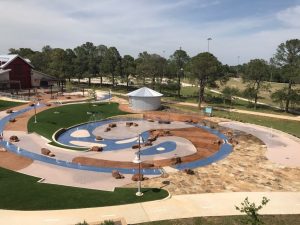 On the East side of Highland Village lies what I would refer to as no less than every kid's (and parent's) summer heaven – Doubletree Ranch Park.
This Highland Village park has it all – a splash pad, walking trails, a pond, soccer fields, and a pavilion and barn both available for private events.
AND… of course… it's also the home to The Flour Shop's Snack Bar.
During the week, the Snack Bar serves up classic concession foods like popcorn, nachos, hot dogs, ice cream, and (the crowd favorite) sno cones!
On the weekends and during city events, the Snack Bar also serves up classic treats from the Flour Shop Bakery to include cupcakes, rice krispie treats, cake balls, brownies, etc.
The Flour Shop has become a staple at Foodie Friday DFW, and we were glad to get to meet Snack Bar Manager, Haley Warren, this week. She told us that they've absolutely loved having this snack bar location at Doubletree Ranch Park. Getting to see the kids and families laugh and play and (of course) eat delicious treats is the best part of their job.
So now that summer's officially here, take the whole family over to Doubletree Ranch Park. Cool off in the splash pad and grab some yummy snacks from the Flour Shop Snack Bar!
*Doubletree Ranch Park is located at 310 Highland Village Rd, Highland Village, TX 75077. The Flour Shop Snack Bar is attached to the big red barn.