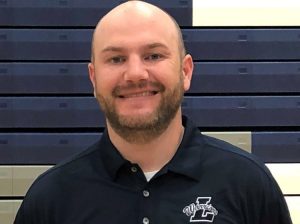 Liberty Christian's new boys head basketball coach Preston Nadolski brings a decade of experience and success from McKinney North, Colleyville Heritage, Melissa and Prosper.
"My family and I are very excited about joining the Liberty Christian family, allowing me to openly merge my faith with my passion of working with young people through education and the game of basketball," said Coach Nadolski. "Having the opportunity to impact students and athletes while honoring Christ is a calling I could not refuse."
A graduate of Texas A&M University with a journalism degree and a certification in teaching, Coach Nadolski has led his teams to district wins and playoff successes – and even two football state championships as an assistant coach.
He said when he walked onto Liberty's campus in Argyle for the first time, he saw, heard, and felt an atmosphere of faith and family unique to Liberty.
"I look forward to building a basketball program that parallels the values and success of the school itself," he said. "Athletics gives young people the opportunity to learn what it means to sacrifice oneself for something bigger.
"The victories and losses throughout a season are a metaphor for the ups and downs of life, and it is important to me that the members of the basketball program learn how to weather those storms in life and come out better for them. While winning basketball games will always be our goal and what we work toward every day, the real success lies in giving the kind of effort that honors God, our families, and our school."
Preston and his wife, Jessica, have two children, Grayson, 7, and Camilla, 5. Jessica works at an HR firm in Dallas and volunteers for Young Life in Carrollton.