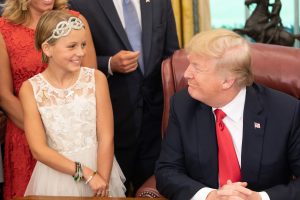 Last Monday was an ordinary day for Sadie Keller, the young cancer survivor from Lantana who is working to help others like her.
Twenty-four hours later, she was a guest in the Oval Office as President Donald Trump signed into law an important piece of legislation for Sadie and other cancer survivors like her.
"It was a complete whirlwind," said her mother, Sarah Keller.
The Childhood Cancer Survivorship, Treatment, Access & Research (STAR) Act of 2017 was passed by the U.S. Senate in March and the U.S. House of Representatives in May. It is the most comprehensive childhood cancer legislation ever addressed by Congress, according to the Children's Cause Cancer Advocacy. It represents important bipartisan legislation designed to advance pediatric cancer research and child-focused cancer treatments, while also improving childhood cancer surveillance and providing enhanced resources for survivors and those impacted by kids' cancers.
Sadie, now 11, was diagnosed with Acute Lymphoblastic Leukemia on Feb. 25, 2015 at the age of seven. She fought through infections, blood transfusions and rare side effects; and, received weekly chemotherapy for two years. She received her last chemo treatment in May 2017.
Sadie and Sarah created the Sadie Keller Foundation, which aims to raise awareness for childhood cancer and "put a smile on the faces of children fighting cancer all over the country," according to the foundation's website. When Sadie learned that just four-percent of federal government cancer research funding goes to study pediatric cancer, she wanted to become more involved in increasing awareness and changing that statistic.
She has lobbied in Washington, D.C., appeared in nationally-televised interviews and videos, plus becoming a public speaker and advocate. The STAR Act was extremely important to her, because she and friends of hers have suffered rare side effects from chemotherapy.
"I was so excited when it passed, because I knew it is going to help so many more kids who will be diagnosed with cancer," Sadie said.
Michael McCaul (R-TX) was a co-sponsor of the STAR Act and has been in contact with Sadie for a while.
Before the STAR Act was passed, he told Sadie and Sarah that they would get an invitation to the White House for the bill signing, but just days before President Donald Trump was to sign it, they still hadn't heard anything.
Then, during the late afternoon of June 4– the day before the bill signing– Sarah got a call from one of McCaul's aides inviting them to witness the bill signing.
"I can't even explain," Sadie said. "I was so excited and nervous and imagining myself in the room,"
Sadie and Sarah bought tickets for an early-morning flight to the nation's capital and, that afternoon, they were escorted into the Oval Office with other young cancer survivors.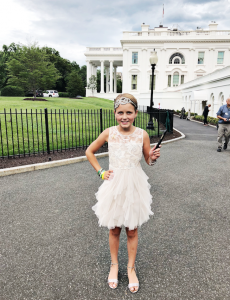 "When he walked in, it felt like I was watching TV; I couldn't believe it," Sadie said. "When he shook my hand, I was shaking so much, because the president was saying my name and talking to me."
According to the official White House transcript, Trump commended Sadie "for her leadership." During the signing, McCaul said "the children are the best advocates."
"They can say 'no' to you or me, but I bring in little Sadie into the office — (laughter) — they can't say 'no' to her and these other survivors," McCaul said.
Sadie said the president told her that she was strong and asked her if she'd ever seen a signature like his. Then he gave her the pen he used to sign the STAR Act. Click here to see a video of the bill signing.
Ivanka Trump, the president's daughter and advisor, was not present at the bill signing but she had heard about Sadie and wanted to meet her, Sarah said. Ivanka reached out to McCaul and invited Sarah and Sadie to meet her at her office in the White House the next day, June 6.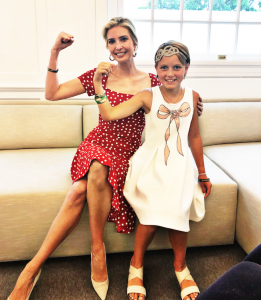 "She gave me a big hug," Sadie said of Ivanka. "She was telling me how inspiring I am and what I'm doing is amazing and she was honored to meet me, but I was honored to meet her.
"I couldn't believe that I, an 11-year-old kid like any other, is meeting the president and his daughter."
The Kellers flew home that night, because Sadie was supposed to be at a pediatric cancer awareness event in DFW on Thursday. But then on Friday morning, Sadie and Sarah flew back to D.C., so Sadie could do several news interviews, including some on national and international TV, with McCaul. They returned home that night.
"We came home and looked at each other like, 'What just happened?'" Sarah said. "It all happened so fast."
Sarah said she and her husband, Shawn, have talked about the amazing things Sadie has done and are always impressed with what she'll does next.
"We ask, 'How does she top that?' and then she does," Sarah said.
Rep. Michael Burgess (TX-26),  who has also been a strong supporter and friend to Sadie– and has met with her many times– joined Sadie at the White House for the bill signing.
"It was a privilege to join President Trump today as he signed the Childhood Cancer STAR Act into law," said Congressman Michael C. Burgess, M.D. (R-TX), in a prepared statement. "Building on the work of the 21st Century Cures Act, this law will help to deliver innovative treatments – and cures – to America's youngest cancer patients. I am grateful for the young patients and cancer survivors, including 26th District constituent and childhood cancer survivor Sadie Keller, who have shared their stories and advocated for this critical legislation. Now the law of the land, the Childhood Cancer STAR Act offers renewed hope to these children and their families, and fulfills yet another promise to the American people."
Sadie said she will spend much of her summer riding her bike, swimming creating art and "just being a normal kid," but she's also going to continue working with her foundation, doing interviews and spreading awareness.
The Art House of Highland Village, a local art studio and school, will team up with Sadie and her foundation for a fundraising event on July 14. Sadie takes art lessons at the ART House, 6100 Long Prairie Road, Suite 800. She has created a body of work in what are Paint Pouring-style originals.
The proceeds from that sale of her art will go to the Sadie Keller Foundation, as will the proceeds from those who participate in a two-hour pouring class from Sadie herself.
A meet-and-greet with Sadie will start at 6 p.m. Click here to sign up for Sadie's paint pouring party.
Click here for more information about the Sadie Keller Foundation.