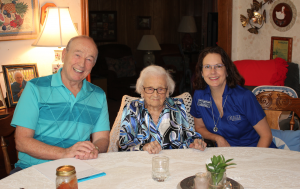 One of the reasons I love doing these interviews is that I meet some of the most amazing people. I've been fortunate enough to sit and chat with some of the leaders in every walk of life, from politics, to business, the military, community activists and many native Texans that have added insights into local history.
I was honored recently to meet Oleta Greer, a Flower Mound resident who will be celebrating her 104th birthday on September 1st.
Ms. Greer was born in 1914 in a little home in Flower Mound that still stands today. When she was 9 years of age, she was baptized at Flower Mound Presbyterian Church, 1501 Flower Mound Road, which is the oldest Presbyterian Church in Denton County, dating back to 1854.
Pastor Lucia Kremzar provided us with the information and invitation to meet Ms. Greer, a lifelong member of the church. Pastor Kremzar participated in the video interview below.
During the interview, Oleta Greer, formerly Oleta Simmons, talks about life in the area, long before it was known as Flower Mound. She also talks about her secret to a long and healthy life, and mentions some of the well-known figures in the history of the town.