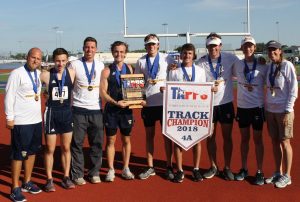 Mark Twain once wrote, "It's not the size of the dog in the fight, it's the size of the fight in the dog."
Six members of the boys Coram Deo track and field program in Flower Mound proved that was true last month when the team won a TAPPS 4A state championship.
Coach Cody Bartlow said his team faced a number of setbacks this past season, not even having a track to practice on, but said his athletes held tough.
"This season was a season of challenges," Bartlow said. "From practice locations changing, major injuries, weather concerns etc, we had a lot to overcome.  I knew we would do well individually if we could avoid major injuries and maintained our focus, but I never would've imagined that we would win the regional championship much less the team state championship."
Coram Deo won five individual medals on the boys side at state, including Brooks King (first place 100m, second place 200m), Caleb Johnson (first place 400m), Hunter Longcrier (third place shot put) and Jackson Jarvis (third place 200m), as well as the 4X200 and 4X400 meter relay events.
Bartlow said once his team qualified for state, it took a while before he became aware of Coram Deo's place in the standings and the possibility of capturing a state title.
"We realized going into the final race, the 4×400 relay, that if we won that event we would tie Cypress Christian from Houston for the overall title," Bartlow said. "As I found that out, I knew what we were about to accomplish because we had been at least 4 seconds faster in that race than anyone else we were running against throughout the year."
The Lions tied Cypress Christian with 92 points each to win a co-championship.
King, who captured two medals at state, did not make excuses when he said in an earlier interview with CBS 11 that he and his teammates did the best with what they had.
"Yeah, I practice on not the best quality track or best quality field," King said. "But it's still training. It's still going to make me better."
On the girls side, Elizabeth Lohstroh took first place in both the 200 meters and 400 meters events, and Bartlow said things are looking good for the girls future as well.
"I anticipate our girls team to compete for the state championship next year while the boys I believe will do very well individually, and if things fall our way, could compete for a place at state," Bartlow said.
The Coram Deo coach said the objectives for next season are to continue to get stronger and improve technique and said this year's program set the bar pretty high for the programs to come.
"We want to use this team success to springboard the growth of our program into next year as we continue to build a team that is not only competitive, but sets the standard for all our athletic teams to want to reach," Bartlow said.
The Coram Deo boys track team included King, Johnson, Longcrier, Jarvis, Max MaCalley, Taylor Behm, and Erik Halldorson.